Bank customers have more choices in how, when and where they can to do their banking today. Changing bank is easy and the engagement with one specific bank is not life-long anymore.
Simply put, customers are prepared to walk away from their bank if their expectations are not met. A Cap Gemini* study on global retail banking indicates that only 50% customers will remain with their primary bank the next six months. Further, only 15% have trust and confidence in the banking industry.
After all, why should I settle for mediocre service? I have more options today than ever before.
Let's take a closer look at the challenges facing retail banks:
Improving the customer experience
Increasing sales
Reducing costs/improving efficiency
Increasing staff satisfaction
Driving business improvements through data and analytics
Improving the customer experience
Customers select a bank or leave their current one because of the service quality at engagement points. Simply put, the customer experience and service delivery are more important than ever. At the heart of the customer experience is the quality of service provided. Sometime I feel that banks seem to forget that they actually still have customers visiting their branch.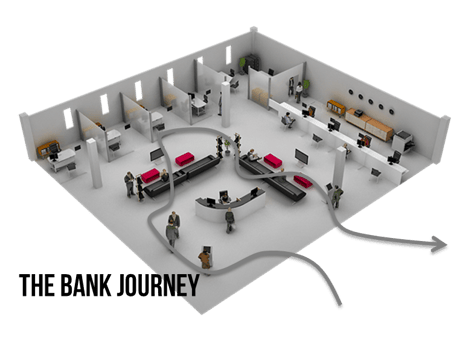 Figure: A seamless customer journey that integrates the virtual and physical world.
Why not welcome customers with a meet and greet solution? Such a solution will increase service quality by better matching customers and staff, based on the customer's need and staff competence. Such a solution will increase service quality by better matching customers and staff, based on the customer's need and staff competence. In addition, advisors are in a stronger position to meet the need since they have access to the customer's service history and can prepare accordingly.
Increasing sales
An attractive service or product offer does not usually sell itself. It takes the right conditions, the right promotion and often a pleasant customer experience. How can you stand out from all the noise and attract new customers? Why should existing customers stay with your branch? The right solutions should help attracts more customers by making the sales environment more comfortable and relaxed. Customers should feel welcomed and experience a higher service level.
You should look to implement solutions that promote the optimal conditions for a positive customer experience that enhances the chances of the customer buying your product or service. For example, a customer is more likely to have confidence in and be inspired by a staff member who seems to already understand the customer's requirements before they meet. A solution should thus make it possible to give staff access to the customer's "history" so that they can prepare in advance. This is key in delivering a seamless and personalized customer journey in an omni-channel context.
Reducing cost / Improving efficiency
Identifying ways to improve efficiency and reduce costs without compromising the quality of service is a challenge for many financial institutions. By applying solutions to better manage the customer journey, it is possible streamline the customer flow to increase occupancy and lower cost per transaction – while improving the customer experience.
In order to reduce transaction time it is necessary to inform the staff about the customer's requirements before they reach the counter. This enables staff to prepare while waiting for the approaching customer. By making it possible to identify the customer's service needs early on for example by reading the customer's credit card in a self-service kiosk, it is possible to match the need with the right competence, which also helps save time.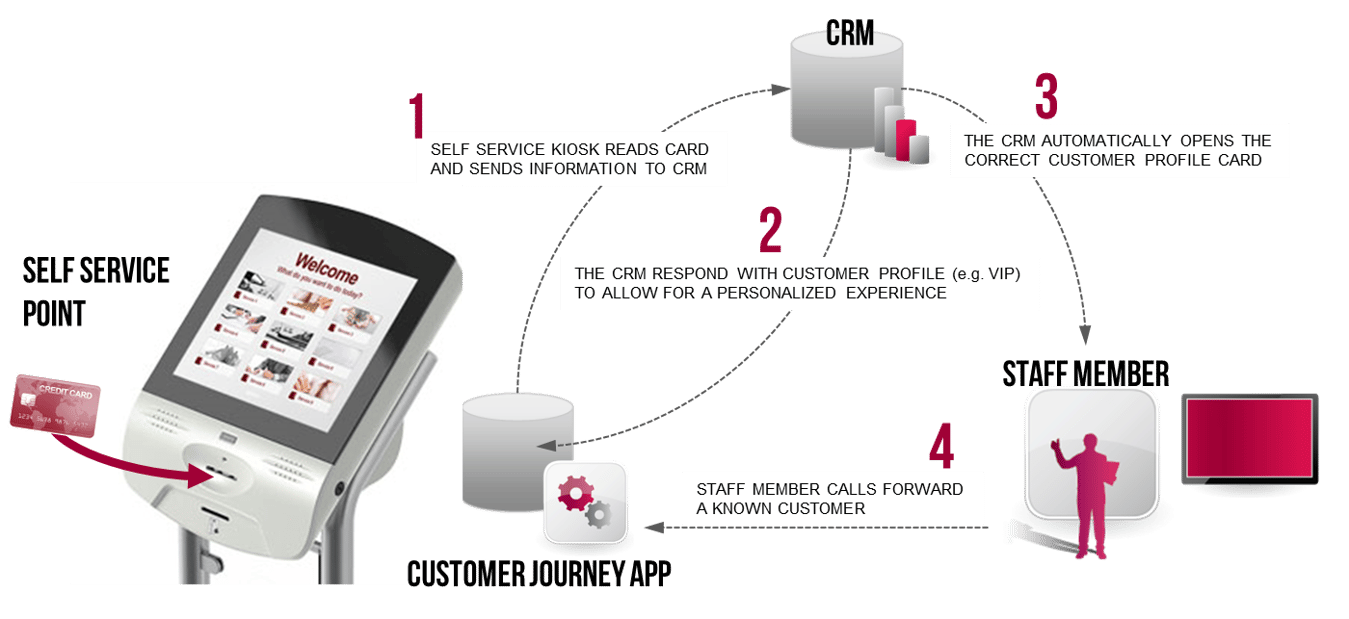 Figure: An example of a Customer Journey Management solution that integrates the arrival phase in the branch with the bank's CRM system to allow for identification, segmentation and staff skill matching
Increasing staff satisfaction
Being able to attract and keep qualified employees says a lot about a company. And it is not always easy. What is more, an employee that appreciates his or her tasks and the workplace itself is more likely to take care of customers in an efficient and positive way.
A Customer Journey Management solution should increase staff satisfaction by streamlining the customer flow and making it more efficient. It should also contribute to a sense of professionalism and give the employees knowledge about the customers to better match employee competence with the customer's need. Staff can then take pride in knowing that they are informed and ready to meet the customer's requirements and provide the best possible service. In addition, staff should be supported by real time monitoring and resource planning that alerts managers when service level targets are not being achieved so that they can take actions accordingly.
Driving business improvements through data and analytics
Staying at the forefront is about continuous evolution – there is always room for improvement. The challenge is where and how. Using tools to determine and analyse customer throughput per hour, waiting and transaction time per customer and cost per transaction allows management to focus on areas with high improvement potential and initiate the right operational improvement activities.
By collecting data on service delivery outcome, for example, a solution should support performance management of staff. It should also offer the possibility to poll customers to gain insight on the services offered. With real time data (already in the branch), managers can take immediate actions to use staff more efficiently and improve the quality of service.
Summing up
The wrong solution can be worse than having no solution at all. Over the last 30 years the company I currently work for has worked with many world-leading organizations in the public and private sectors – from governments to FTSE100 and Fortune 500 companies.
Below are some examples, based on real life cases, of what retail finance clients have achieved with their solutions:
Up to 90% reduction in customer walk aways by improved experience
Customer waiting times reduced by 20%
Reduced staffing needs by 32%
Productivity gains in the face-to-face sales team of 21%
8% sales increase at a leading financial institution
With results such as these there seems to be very few arguments to not consider deploying solutions to better manage the customer journeys.
What are the trends in retail banking in 2020/2021?
In the video below, our finance expert Khachatur Muradyan talks about the latest trends in customer behavior in retail banking.

* World Retail Banking report 2012, Cap Gemini, EFMA