Business Intelligence
Drive operational excellence and employee productivity with data integration and business analytics.
By integrating with every piece of your customer journey, the fully web-based, advanced Qmatic business intelligence (BI) module generates comprehensive, up-to-date insights you need.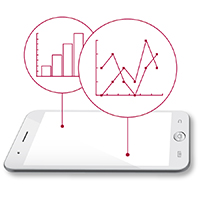 The flexible, scalable solution is built to work within the Orchestra platform. It supports third party integration and offers customizable dashboards for an accessible source of useful, actionable information about how well your operations are working.
Organize and understand vital information simply and quickly with drag-and-drop data fields and point-and-click analytics.
Simple, secure web-based mobile business analytics give employees the ability to make informed decisions at any time, wherever they are.
Visualize, dissect, and analyze customer journey management data to identify the most important business metrics, trends and exceptions.
Build customer behavior, interaction, process and satisfaction analytics through sweeping discovery of every piece of your customer journey.
Appointment
Casual Caller
Customer Demand
Enquiry Rates
Lost Customers
Multi-Channel Performance
Real-Time Customer Satisfaction Feedback
Service Quality
Serving Time
Staff / User Performance
Transaction Time
Waiting Time