Robert Ekström - President and CEO
Robert Ekström became CEO of Qmatic in 2016. Prior to joining Qmatic, Ekström held the position of CEO at Sivers IMA, a listed Swedish technology company. Over the years, Ekström has successfully served as CEO at several software and hardware growth companies and has held executive leadership roles at large international firms such as NCR, Microsoft, and Digital Equipment. Ekström studied Industrial Engineering and Management from Linköping Institute of Technology.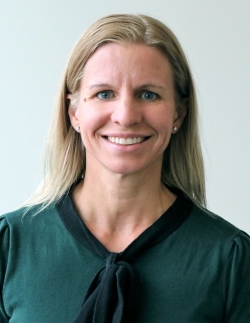 Anna Anderström - CFO
Anna Anderström joined Qmatic as CFO in 2021. Prior to Qmatic, Anderström worked at Cochlear in different leadership roles, including Business Unit CFO and most recently as Director of Bone Conduction in the US, managing commercial strategy and product management. Anderström has over 20 years of experience from driving change across the value chain in complex technology and international, fast paced, result driven environments. Besides Cochlear she has a background in finance and commercial strategy from Johnson Controls, Henkel, and Saab Automobile. Anderström holds an MBA in European Business, with emphasis in Business Strategy and Finance from Halmstad University.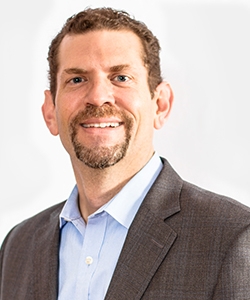 Jeff Green - COO
Jeff Green joined Qmatic as CEO in the United States in 2015. Prior to Qmatic, Green worked at Xerox Corporation for over 15 years where he held numerous senior positions, such as General Manager for Xerox Global Services. Green has over 20 years of growth-focused organizational leadership and a proven track record of creating winning customer programs. In 2016, Green was appointed SVP, Americas; CEO and Managing Director, North America and in 2019 he became COO. As COO, Green is responsible for field sales and client success organizations operating globally as one company, executing locally through Qmatic's field offices and employees in Scandinavia, North America, the Middle East, and Europe. Green holds a B.A in Sociology and Criminology from Ohio University.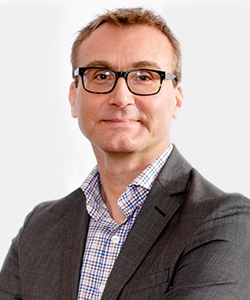 Peter Lundqvist - CMO
After obtaining his M.Sc. in Mechanical Engineering from Linköping University, Peter Lundqvist started to work as Marketing Programs Manager at the multinational software corporation Autodesk where he stayed for over 20 years. Lundqvist has a solid background with extensive international experience from various senior positions in the field of marketing and a proven record of accomplishments of implementing global initiatives driving efficiencies and effectiveness. Coming from the role as Director for Global Marketing at Autodesk, Lundqvist was appointed Chief Marketing Officer of Qmatic in 2017.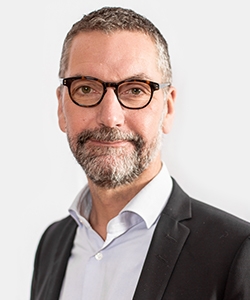 Magnus Dahlbäck –SVP Research and Development
Magnus Dahlbäck was appointed Senior Vice President of Research and Development at Qmatic in 2017. His previous position was Vice President of Management Consulting at Acando. Dahlbäck is an experienced leader, strategist and driven business developer with a background of holding senior positions in the airline, payment and telecom industry, working for companies, such as Scandinavian Airlines, American Express and Tele2. Dahlbäck holds a M.Sc. in Mechanical Engineering from Luleå University of Technology.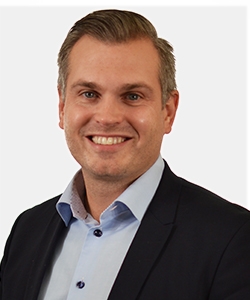 Jon Hjertenstein – SVP Worldwide Channel Sales
Jon Hjertenstein joined Qmatic as Global Vice President of Client Services in 2019. In February 2020, Hjertenstein was appointed Senior Vice President of Worldwide Channel Sales at Qmatic. He brings diverse expertise and considerable international experience from senior management positions in sales and operations, working 18 years in the Telecom and IoT industry. Before joining Qmatic in 2019, Jon's served as CEO of a global IoT company offering real-time monitoring of the world's supply chains.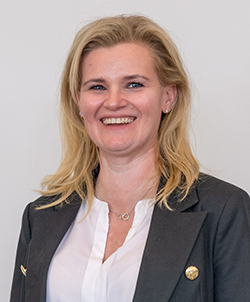 Petra Hagensen – VP Human Resources
Petra Hagensen was appointed Vice President of Human Resources at Qmatic in 2021. Before joining Qmatic, Hagensen served as Senior Vice President of Human Resources at Icomera, where she was instrumental in Icomera's business growth and comprehensive transformation as the company doubled its workforce and the number of offices globally over the past years. She has extensive experience in the field of HR working in various roles in international companies such as Volvo Business Services and Nolato. Hagensen holds a bachelor's degree in Behavioral Sciences from the University of Gothenburg.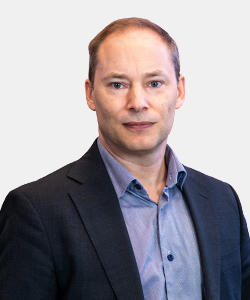 Mattias Bogeblad – CPO
Appointed Chief Product Officer in 2021. After taking his Master of Science in informatics from University of Gothenburg in 1998, he worked for almost twenty years with development, architecture, and leading agile teams, eventually closer to business and strategy. Bogeblad is also experienced in digitalization and transformation in several industries, and during his five years at Qmatic, he has been Chief architect of product management, worked with R&D on strategic decisions and lead the release of our first SaaS services.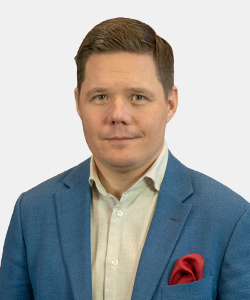 Andreas Glänfält – CDO
Chief Digital Officer and part of Qmatic's Executive Management Team since 2021 after being Global IT and Security Director for two years. Before joining the company in 2018, he worked with information technology, mostly in the hospitality industry. His most recent role was CDO and Head of Business Technology & Innovation at The Swedish Exhibition & Congress Center Group (SECC) where he led their digital transformation and innovation strategy.