Connect your solution to the cloud
Qmatic Cloud Solutions covers your physical, digital and omnichannel customer journeys. So whether you're looking to operate a straightforward queuing solution or advanced customer journey management, Qmatic Cloud Solutions can be configured to match your needs perfectly:

Queue Management
Optimize the customer flow, minimize queues and waiting time and create the perfect customer experience.

Appointments
Guarantee a smooth customer journey, from scheduling an appointment to checking in at your premises, through to service delivery and even providing feedback after the visit is completed.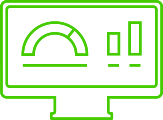 Reporting & Analytics
Gather data from every part of the customer journey and generate comprehensive, up-to-date insights you need to make better data-driven business decisions for optimized operations.