In an era where citizen-centric services and streamlined administrative processes are paramount, the City of Brussels is taking steps to enhance its services for citizens by simplifying processes, improving reception efficiency, and implementing a digital transformation to increase accessibility and autonomy. A pivotal part of this transformation is enabled by Qmatic Experience Cloud, a cloud-based platform designed with a broad set of capabilities to create seamless customer journeys and enhanced customer and employee experiences with its suite of solutions like appointment scheduling, queue management, reporting & analytics, resource capacity planning and more. A platform that has proven to be a catalyst in the City's transformation journey.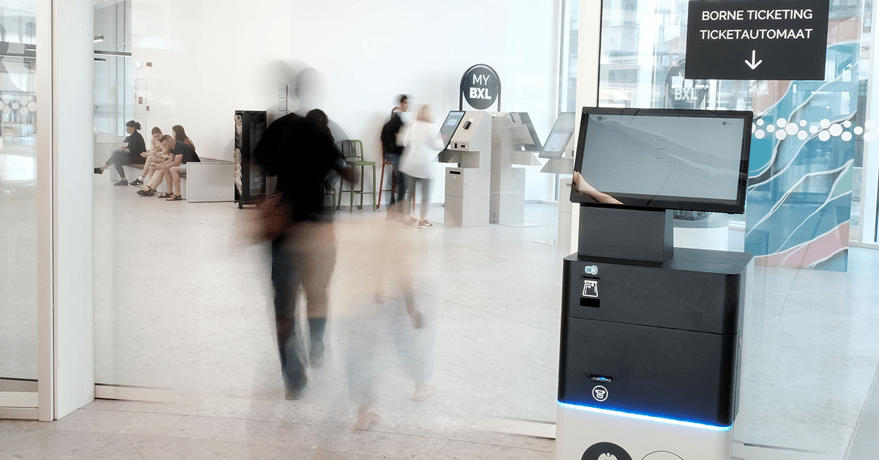 In December 2022, the City of Brussels opened its doors to Brucity Administrative Center, a modern and energy-efficient building that symbolizes the profound shift the City has undergone over a five-year span to centralize and modernize its administrative functions for the future. At Brucity, several services are offered to citizens and residents of Brussels, and different requests can be made, such as applications for birth certificate, driver's license, ID card, residence permits renewals, passport applications, and more. All are centralized and digitally available through the MyBXL citizen portal to book appointments and submit and follow-up applications.
Moving from on-premises to the cloud
The City of Brussels and its IT department, I-CITY has been a long-term client of Qmatic. The partnership has focused on streamlining citizen flows at four public offices throughout the city by leveraging Qmatic's appointment and queue management solutions. With the move to Brucity, the City aimed to upgrade its existing on-premise solution to Qmatic's cloud-based platform, Qmatic Experience Cloud, for all five locations to access Qmatic's latest innovative features and move to the cloud.
Before the opening of Brucity, I-CITY proactively engaged Qmatic to devise a tailored solution for the new Administrative Center. The overarching objective was to create a one-stop-shop for all their public services with increased accessibility and autonomy for visitors and agents alike, creating a quality "front office". An important requirement was to integrate all technological components that would facilitate citizen interactions throughout their customer journey. Central to this strategy was the implementation of interactive self-service kiosks, enabling citizens to independently check in for appointments, authenticate their identity through eID recognition, process payments, and get in line for different services.
Seamless integration of Qmatic Experience Cloud
At the beginning of the project, I-CITY created a new digital ecosystem, including a citizen portal (MyBXL) and CRM system (Microsoft Dynamics) to enable a brand-new user experience for citizens and agents. This new digital ecosystem empowers citizens to conveniently schedule appointments via the portal or in person using interactive kiosks. The kiosks are equipped with advanced features such as eID recognition, electronic signatures, document scanning and printing capabilities, and secure payment functionalities. An important aspect of the project involved seamlessly integrating Qmatic Experience Cloud with these tools and platforms through APIs, effectively managing appointments, and orchestrating the queues on-site.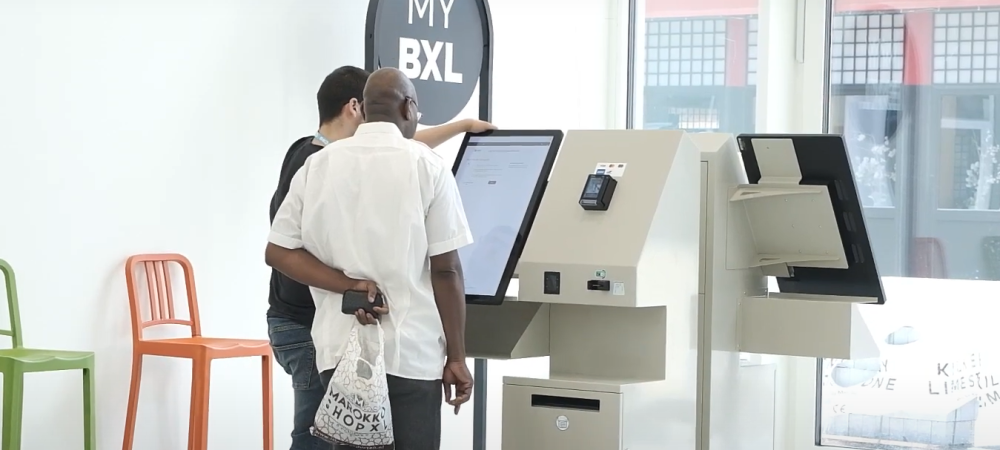 Streamlined waiting experiences with Zones
Today, Brucity Administrative Center welcomes 1000-2000 citizens per day—a testament to the success of the City's transformation. The City implemented different zones throughout the waiting area to manage the high visitor flow and streamline the waiting experience. The zones work to reduce wait times and improve the waiting experience for visitors.

When a visitor checks in at the entrance and gets in line for a service, Qmatic Experience Cloud routes them to the most suitable zone, depending on the agent's area of expertise, workload, and the current wait time. This makes it easier for the City to distribute the visitors into different zones, and agents don't need to be tied to a specific counter. Instead, they can support various requests depending on the current need and enhance their performance while reducing wait times without increasing the number of agents working.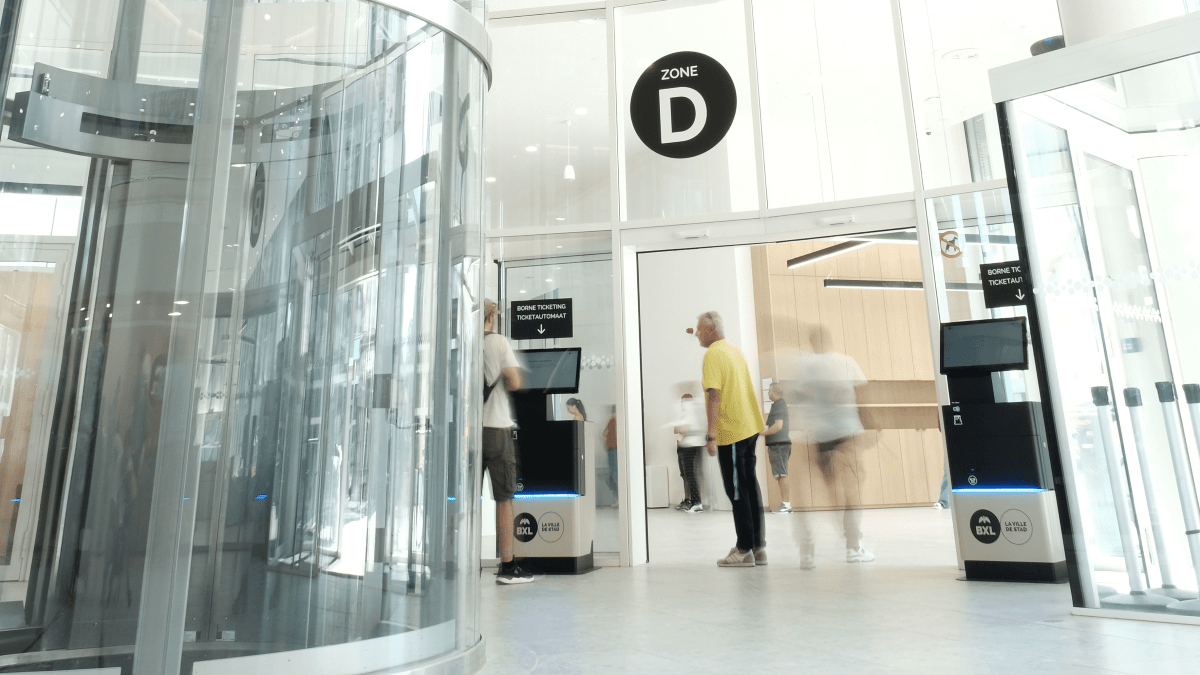 Empowering agents for success
The Qmatic Experience Cloud user portal is the single point of entry for all applications running in Qmatic Experience Cloud. The applications available to the agents depend on their user role. Within the portal, agents can easily access all the tools they need to serve customers, book appointments, and get live data on a range of performance metrics. The agents working at the counters of the different zones have complete visibility of all upcoming appointments and people currently waiting for service, all through the Serve application. With Serve, agents can get information about waiting visitors, their service requests, and the current wait time to facilitate the interaction when carrying out the requested service.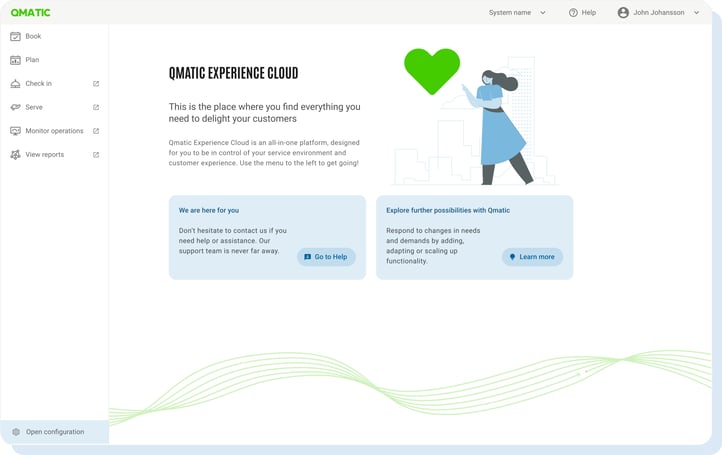 Additionally, agents can easily schedule, change, or cancel appointments with the appointment scheduling application Book, as well as view individual appointment details, manage staff schedules, define appointment types, set business hours, and edit how appointments are scheduled. Combined with the resource capacity planning tool Plan, agents can allocate the necessary number of staff for various services based on demand or reduce available appointments when there are insufficient agents, especially on certain days.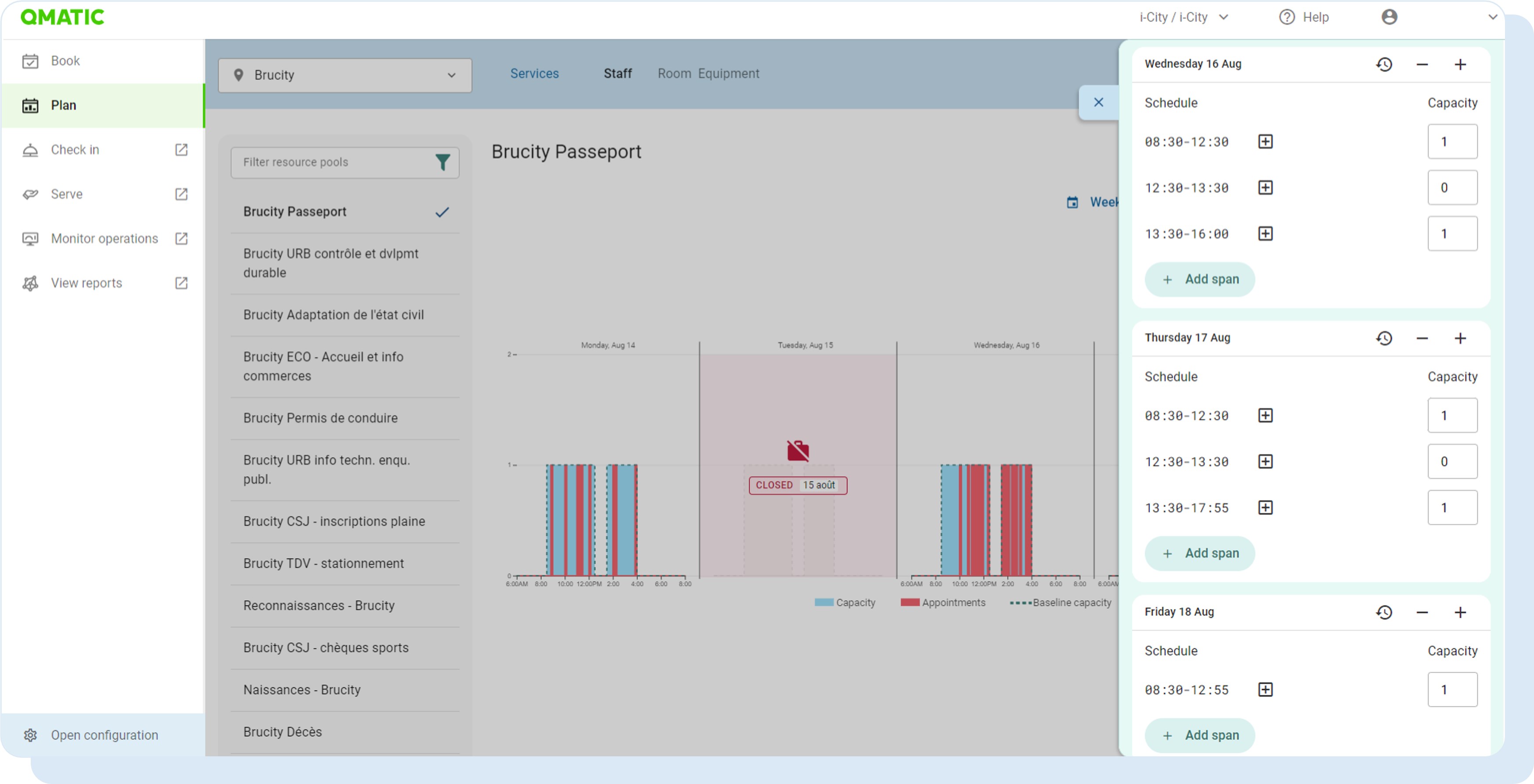 By leveraging Qmatic Experience Cloud's appointment booking and resource capacity planning features, along with the appointment API, the City has created more efficient appointments and utilized its resources better, enabling citizens to easily book an appointment through the MyBXL portal at their convenience and check in upon arrival.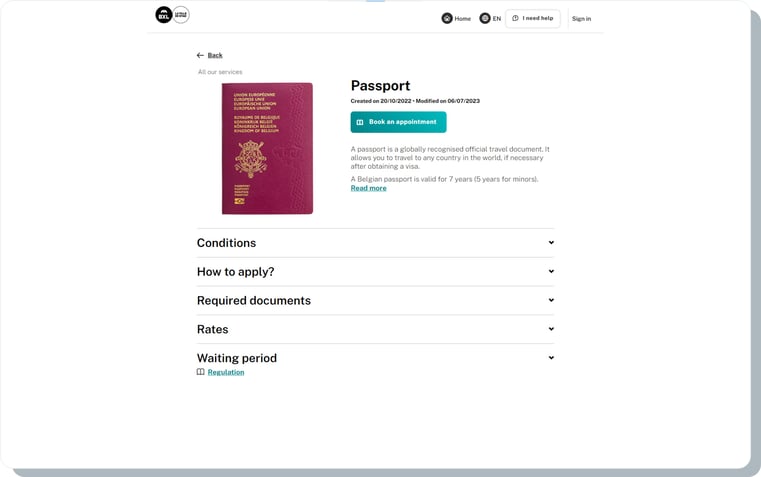 Leveraging data for operational excellence
Data is vital for organizations that provide many different types of services, and the City of Brussels is no different, offering more than 500+ services; data is crucial in how they plan and manage their daily operations. With the real-time dashboard - Monitor Operations, managers have full control of the service environment and can, in real-time, see detailed information about the branch's performance and use that information to improve the use of resources, service flow, and customer experience. In addition to the real-time dashboard and reports, the City uses Data Connect, a business intelligence API that allows them to export and access all data to their existing BI tools and combine customer journey data with other sources to reveal even deeper insights. Today, the data is also used to enable visitors to find out the peak hours at the Brucity counters on different days and times to reduce crowds.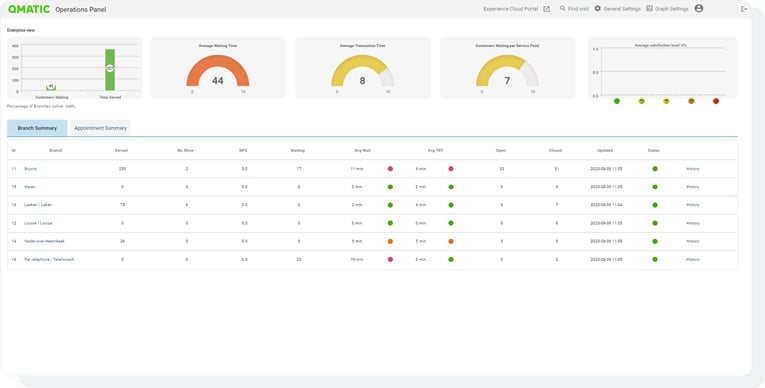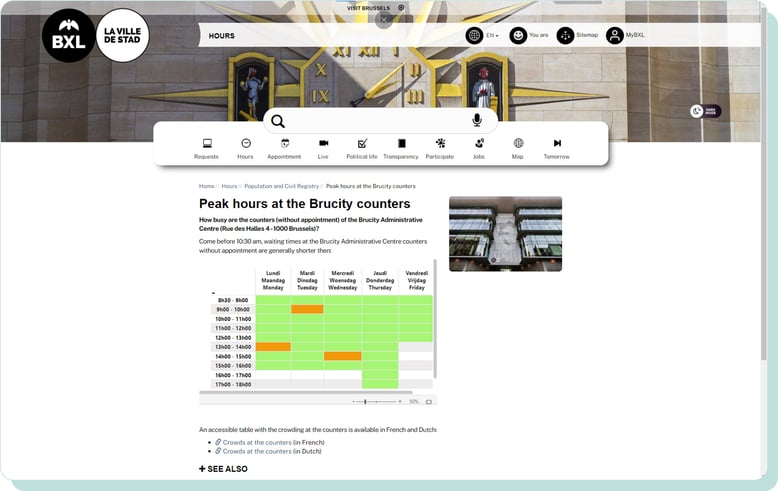 A successful digital transformation journey
The journey undertaken by the City of Brussels and I-CITY towards a more efficient and citizen-centric administrative landscape stands as a great example of successful digital transformation. The implementation of Qmatic Experience Cloud has not only simplified processes but has also elevated the citizen and employee experiences. The Brucity Administrative Center, a symbol of this transformation, now serves as a hub where citizens can access a wide array of services wherever and whenever they want with the integration of self-service kiosks, appointment scheduling, and queue management, creating a harmonious flow of visitors, reduced wait times and enhanced service quality.