Identifying ways to improve efficiency and reduce costs without compromising the quality of service is a challenge for many financial institutions. By applying solutions to better manage the customer journey, it is possible streamline the customer flow to increase occupancy and lower cost per transaction –while improving the customer experience.
It is easy to spend too much time during the actual transaction. Improving the efficiency of this step in the process allows staff members to take care of more customers –or spend more time with those customers who have special or more complicated needs.
In order to reduce transaction time it is necessary to inform the staff about the customer's requirements before they reach the counter. This enables staff to prepare while waiting for the approaching customer. By making it possible to identify the customer's service needs early on for example by reading the customer's credit card in a self-service kiosk our using a mobile application, it is possible to match the need with the right competence, which also helps save time.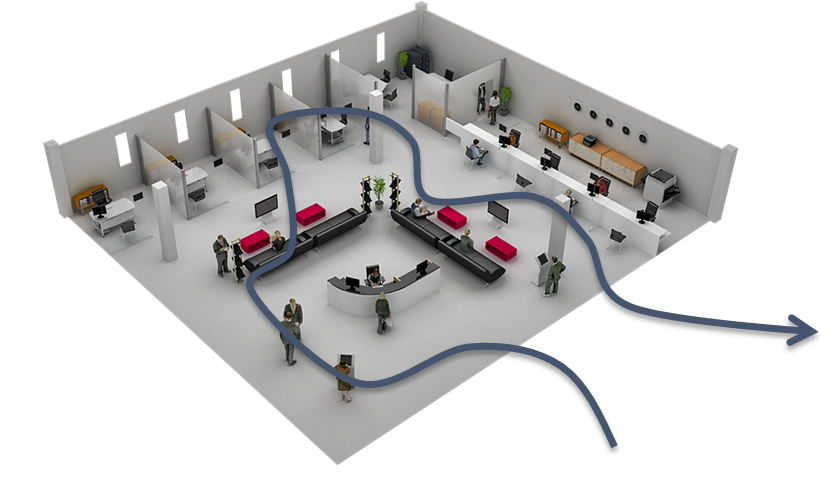 Integration between the self-service check-in solution and the CRM system allows both for a smoother customer journey, better customer service and improved operational efficiency.
Reducing costs is about making best use of a valuable resource: the staff. In order to optimise the workforce need, real time monitoring and resource planning of staff with alerts on exceeded service levels should be implemented. Managers should be notified of a staffing problem early on and can take the appropriate actions.
With the data available from the customer journey touch points it also makes sense to integrate with Work Force Management (WFM) systems to further enhance the possibilities to optimise the workforce based on service level targets. Instead of just do workforce planning, a bank could to workforce optimization in the branch using the same techniques as in the call center. For example, why not optimize towards a service level target of maximum waiting time – or even better maximum waiting time per customer type/category?
With a clear strategy it is possible to create a more efficient use or resources and time. Any changes should always be done from the customer journey perspective, balancing the customer experience with the potential operational saving.
What's your experience – is it possible to reduce cost AND improve service level at the same time?