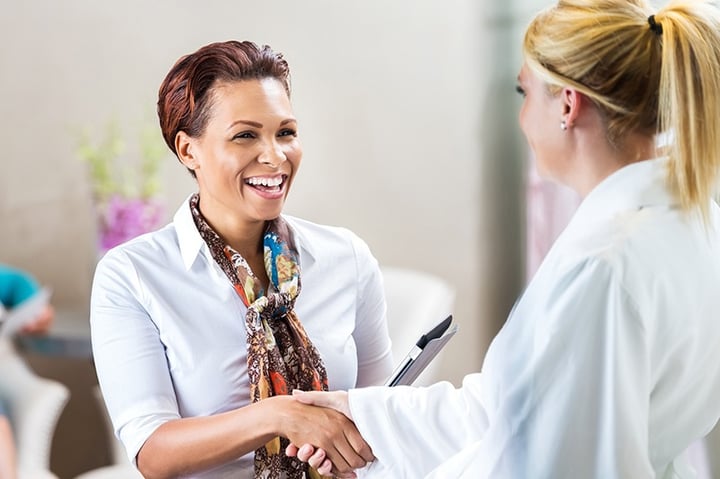 Did you know that it's quite possible that as many as three-quarters of the people who walk into a retail location have never been there before?
A recent holiday retail study from Deloitte indicates that 73% of customers intend to visit new or different retailers this holiday season. What that means for you as a retailer, bank, or other customer service organization is that the large majority of the people who visit your location are brand-building opportunities. And where it once was the case that it could cost upwards of five times as much to win a new customer as it does to keep one, new technology solutions are making it more affordable and efficient than ever to build relationships that are strong from the start and that last.
Mobile technology isn't magic, but it is virtually unparalleled as a resource that can win over new customers, deepen relationships with existing customers, and raise the productivity and satisfaction levels of staff members. It acts like glue between the virtual and physical worlds. It empowers people to find, prepare for, schedule, and undertake tasks as the thought or need arises. It frees customers and employees to move about your environment freely, either while they await their service interaction or as they are engaged in the interaction itself. It enables team members to relate personally and directly with customers on their terms from anywhere in the environment.
In short, mobile is the answer to the rising demand to personalize customer interactions and raise productivity levels. With this in mind, Qmatic has developed two transformational mobile workforce solutions that address specific opportunities that exist at key points in the customer journey – the welcome, the wait, the service interaction, and the operational assessment.
Orchestra Concierge: Elevate Productivity and Personalization at the Welcome Point
A great interaction begins with a question. "Hi, how may I help you?"
It may seem impractical or even impossible to have team members set and ready to meet and greet customers as they arrive – particularly during high volume times. But it is both practical and possible – and it's important to solidifying the customer experience and brand value from the very first moment of engagement.
Orchestra Concierge is an efficient mobile app solution that gives hosts not only the ability to greet customers, but to do so specific to whether the customer has an appointment for which they are checking in or if they are a walk-in who needs direction. We created the solution to meet the key success factors of simplicity, flexibility, and productivity.
In order to make sure the greeter can succeed in personalizing this first important engagement, we developed the Concierge interface to be extremely intuitive while being comprehensive and flexible enough to address any need. The simplicity of the UI enables greeters to pay attention to the customer and to use it very quickly to get to the proper solution without asking the customer to wait. Workflows are clearly delineated and the app guides the user through each step – minimizing the time it takes to interact with the app and maximizing the opportunity to interact with the customer.
Orchestra Connect: Elevate Productivity and Personalization in the Service Environment
When employees come out from behind the counter and onto the service floor, they can attend to customers directly. It's a simple change that yields major benefits. Empowering staff with a mobile resource that untethers them from a service desk makes a positive difference on a number of levels.
It enhances their role as a brand ambassador. They are able to engage personally and proactively with customers in the service environment, welcoming and meeting needs in real time. They are also more able to be engaged and productive throughout the environment because they are not sitting behind a counter waiting for requests, which raises their operational value.
Orchestra Connect is a smart mobile service app that makes all that possible. It puts resources into the hands of staff that help them to raise productivity and customer service levels. With the single interface, team members can manage walk-ins, maintain awareness of waiting customers, customers currently being served, and upcoming visits. They can also tap into useful business analytics like services delivered and outcomes.
Customers report positive tangible and intangible outcomes from the mobile solution. Retailers have seen employees and customers shaking hands and extending pleasant conversations on a shop floor. An auto body shop related higher productivity levels after employees were given the ability to get out from behind the counter to work on vehicles in between attending to customers.
Making Productivity and Personalization Even Simpler
Both Orchestra Concierge and Orchestra Connect are designed for optimal simplicity and flexibility, but Qmatic works ceaselessly to innovate ways to improve the customer experience through journey management solutions. One way is through the innovative use of a wireless pushbutton device called Flic. This tiny Bluetooth device pairs with any mobile device powered by Orchestra Connect. Users can place a Flic button on a nametag or other small surface. Simply by pushing the button, the user can perform a host of tasks (e.g., calling the next customer in the queue, ending a visit, or capturing business information) without having to take their mobile phone out of their pocket.
Not only does Flic augment Orchestra Connect by adding even more speed to the most common customer service tasks, it enables customer service providers to avoid touching their devices. This can be helpful for those who wear sanitary gloves (like deli staff) or even remove the temptation for employees to use their mobile device for non-work related activities during work hours.
Qmatic has created all of these mobile solutions based on how our clients use our solutions to help their own customers have the best possible experience. Mobile use is growing 58% on average every year and 90% of that mobile time is dedicated to (business and consumer) app use.[1] We work continually to make sure that solutions like the Orchestra customer journey management ecosystem can directly and specifically help you turn new visits into lasting customers, and employees into engaged team members.
Contact Qmatic today to learn more about how the solutions can help you make the most of your physical environment.
[1] Mobile Marketing Statistics Compilation, Smart Insights, October 2016