"We live in the 21st century, and technology should make access to banking easier for customers," says Stassen. "The banking experience must change, and banks must take ownership when it comes to helping customers better manage their financial lives."
The Solution
Qmatic Orchestra Enterprise platform to manage all 860 branch offices in South Africa from one central location.
Self-service kiosks with card readers for personal identification.
Signage system and voice calling system for customers and staff
Statistics and reports for management and staff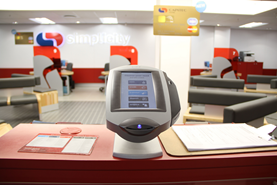 The Benefits
Improved customer experience
Reduced waiting time
Optimised staff scheduling
The Results
"The Qmatic system supports relationship building because branch office staff can now easily interact with waiting customers - based on their expressed service needs," says Carl Fischer, Executive Marketing and Corporate Affairs, Capitec Bank. "With the new system, our efficiency will improve between 20% and 25%, at least," says Fischer.