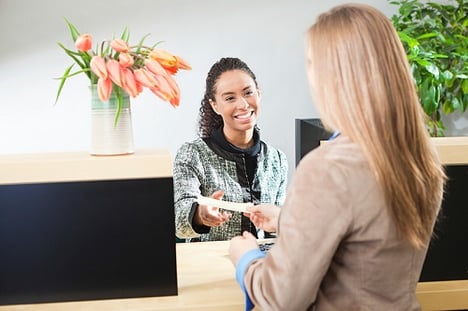 It doesn't matter whether you have a shop, a restaurant, or a bank. Without customers, your business doesn't exist. And thanks to the ease and connectivity of social media and online review sites, your customers hold more and more of the cards. In the Age of the Customer, the business with the best customer experience is the one that is most likely to win.
Your customers trust each other more than they trust you.
When your customer has a particularly good or bad experience, the likelihood goes up that he or she will share their experience with someone else. In the pre-social media era, these customers would share their experience with up to 9 people. Today, social media expands the reach of your customer's opinion to 42 people.
Even if they aren't on social media, your customers have online reviews as a mouthpiece. Even large businesses with well-funded advertising campaigns are subject to the power of the customer voice. Online reviews influence the buying decisions of 90% of customers. And keep this in mind – potential customers do take positive online reviews seriously, but customers are actually much more likely to post a review if they have had a negative experience.
You can't control what they say, but you can shape the customer journey.
People have trouble remembering actual details of an interaction, but no trouble remembering how those details made them feel. This means that perception is as much a part of customer experience as the actual customer experience. A great actual and perceived customer experience comes down to three factors – success, effort, and emotion.
Success: Did the customer accomplish the goal of their visit? Enabling the customer to accomplish what they came to do is the first part of a quality customer experience. That might mean putting in place virtual queuing solutions to control the number of people standing in a physical line, providing self-service kiosks, or using clear digital signage to keep people well informed about their progress.
Effort: How much effort did it require on the customer's part? Online shopping has made it incredibly easy to purchase a product. Particularly for retailers, making sure your brick and mortar locations flow as smoothly as your online presence is vital to a seamless, high quality brand experience. A consistent look and feel across channels and solutions like Click & Collect can bridge the touch points, making it simple for your customers to keep buying from you.
Emotion: What emotions did the customer feel while they were in your environment? Frustration, anxiety, and uncertainty will kill a positive customer experience. It is not only possible to keep people informed at every step in their journey, it is vital to the strength of your brand. From efficient online appointment booking, to relevant on-premise communication channels, to well-informed employees, you can support positive emotions from start to finish.
The final piece of the puzzle is the customer's voice. Before your customer ever leaves your environment, give them the chance to share their feedback – simply, honestly, and quickly. Show you care about their opinion. Not only do you amass valuable insights and business intelligence you can use to inform strategies for creating a better brand experience, you become a channel through which your customer can raise their voice with a review.
Social media and online reviews can be the Wild Wild West for brands, or they can be powerful viral marketing tools. It may be the Age of the Consumer, but brands that listen and respond with an excellent experience still hold the control.

Sources
For more information on how to manage your customer experience, check out "The Best Ways to Promote Happy Staff and Customers."