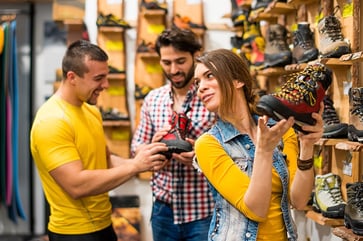 Before we begin, let's clarify a very important point.
Customer Experience ≠ Customer Service ≠ Customer Journey

The customer experience (CX) is summative. It is how your customers, patients or citizens perceive the quality of your environment and services, and their journey through its many channels and engagement points.
The quality and impact of your CX is a result of how you build your customer journey, analyze its impact, and make the necessary adjustments to correct weaknesses and make improvements.
Imagine you own a retail location. A customer is looking at a pair of shoes. He can't find an answer about the product in your store, and no representative has offered assistance. Rather than going to the effort of seeking out an expert in your store, he uses his mobile phone to find the information, make the purchase, and then share their customer service experience over social media. That customer failed to receive the service they expected at a critical point in their journey, and had a poor customer experience.
In an alternate version of this scenario, the customer is looking at a pair of shoes. He checked into the store via a self-service welcome kiosk at the entry, making your staff aware of his need. They are able to make an appropriate customer service representative available to answer his questions personally. The customer receives attentive service and an efficient process. He buys the shoes and goes on his mobile phone to share a positive CX experience.
Certainly this is only one example in a limitless number of different scenarios, but it illustrates how each small piece in a customer journey can dramatically impact the total CX. A complete CX-focused environment engages four key efforts:
Building

Tracking

Measuring

Innovating
Building
As we saw in the scenario, how you design your service environment makes a tremendous impact on the quality of the customer journey. The process of structuring the resources to accomplish a quality CX begins with customer journey discovery – a process of mapping each touch point from the first engagement through post-service follow-up.
It's likely that the customer journey will span online, mobile, and on premise. From the first touch point to the last, every channel offers a familiar brand experience and the right resources to accomplish objectives with ease.
Tracking and Measuring
Continuously gathering and analyzing data points generated by each customer journey informs the design of the service environment, equips staff members to make informed service decisions, and drives dynamic updates to the customer journey that address actual customer needs.
Qmatic gathers business intelligence at each step in the customer journey. Those analytics collect within flexible mobile dashboards, producing applicable intelligence that strengthens the design and operations of your CX environment. Most importantly, this real-time data resource equips service providers to make on-the-fly decisions from a centralized location or on the front service lines.
Innovating
A host of fixed and variable factors impact the quality of your CX. By tapping into BI resources, you can look to actual data to find new and better ways to optimize each step in the customer journey. That might mean using volume patterns to put mobile queuing and digital signage resources in place to improve operational efficiencies even as a location is stressed by customer volume. Or it might mean knowing what locations would benefit from mobile workforce tools to ensure customers can always engage an expert from wherever they are in your environment.
Ultimately the structure of your environment provides a roadmap for the customer experience. The data generated across the customer journey provides a roadmap for how you design that experience to be ideal for your customers and employees. All are vital because a successful CX is one that works well for everyone in every channel at all times.
Is your CX environment engaging all four components? We'd love to hear what is best about your CX and what resources could make it better.
Share your thoughts with us and continue to read the blog – this is the first in a series about what goes into a great CX and what it looks like when a brand does it well.