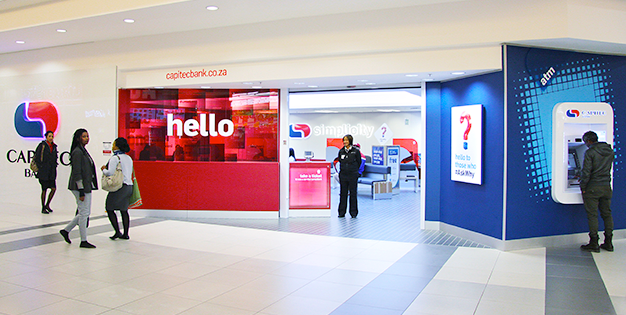 In the past month, I have joined Qmatic as Chief Marketing Officer. One of the things I have been most thrilled to see are the ways Qmatic solutions contribute to our clients' efforts to create great business interactions and customer journeys. South African Capitec Bank is one great example. In a competitive global banking industry, they are growing and thriving, thanks to an active commitment to providing personal service and accessibility across every one of their 800-plus branch offices.
The bank opened its doors in 2001. Just over a decade later, Capitec Bank was doing business in a very different global environment. In 2012, the company implemented a modern branch concept founded on four timeless customer-centric principles:
Simplicity: They commit all offerings to simplistic banking solutions.
Affordability: They offer the most transparent and affordable banking available in South Africa.
Accessibility: Their Global One card allows for easily attainable mobile and online banking.
Personal Service: They acknowledge that each customer's needs are unique and strive to personalize each relationship-based offering.
Instead of trying to integrate these strategic commitments within their current systems, the company analyzed business intelligence gathered to answer eight questions:
Do customers still have to fill in forms when they go to a bank?
Can customers see what bank personnel have on their computer screens?
Do banks have glass barriers between employee and the customer that restricts personal engagement and service?
Are branch managers concealed in the back office, hidden from customers?
Must customers stand in queues just to be told that they have the wrong information or documentation or that they are in the wrong queue?
Do banks close at 3:30 p.m.?
Are they closed on Sundays?
Are bank fees confusing?
The insights from these data points indicated that a more satisfying customer experience would require more sweeping changes across the whole omnichannel customer journey.
Capitec Bank Recreated the Customer Journey
After analyzing the customers' questions, Captiec Bank decided to take on each customer problem and present the solution. They looked for ways to redefine their customer service with an emphasis on accessibility and personal experience. They gathered additional research across the customer journey to find ways to reduce wait times. And lastly, they implemented a centralized enterprise solution that would optimize staff scheduling and create a more efficient work environment for bank employees – helping them to improve how they served their customers.
Today, Capitec Bank runs on the Qmatic Orchestra Enterprise platform, enabling the organization to manage all of its 589 branch offices from a single, centralized hub. This total solution is creating value across the broadly distributed organization by informing decisions, ensuring uninterrupted operations, and – perhaps most importantly – creating a consistent customer journey experience in every one of its locations. The customer sees some of these solutions in play, but feels the benefits of them all, because every resource – from self-service kiosks with card readers for personal identification and service preparation, to the digital signage posted throughout the environments – are feeding data into Orchestra to inform ongoing improvements.
Capitec Bank Leads South African Banking
Because of their carefully planned evolution, Capitec Bank has been able to craft and sustain an exceptional customer journey that is characterized by pleasant customer service champions, comfortable branch environments, clarity about details like wait times, and incredible efficiencies. Qmatic solutions allow managers to make well-informed decisions by viewing live, historical statistics.
"The Qmatic system supports relationship building because branch office staff can now easily interact with waiting customers – based on their expressed service needs," says Carl Fischer, Executive Marketing and Corporate Affairs, Capitec Bank.
The other result of their focus has been competitive growth. Initially formed as a personal and retail banking provider, Capitec Bank has become one of the top five banks in South Africa. Its growth has surpassed others in pace, client satisfaction, and market share.[1]
Learn more about Capitec Bank's success and how you can apply these same strategies, read the whole case study.
[1] http://buzzsouthafrica.com/top-5-biggest-banks-in-south-africa/