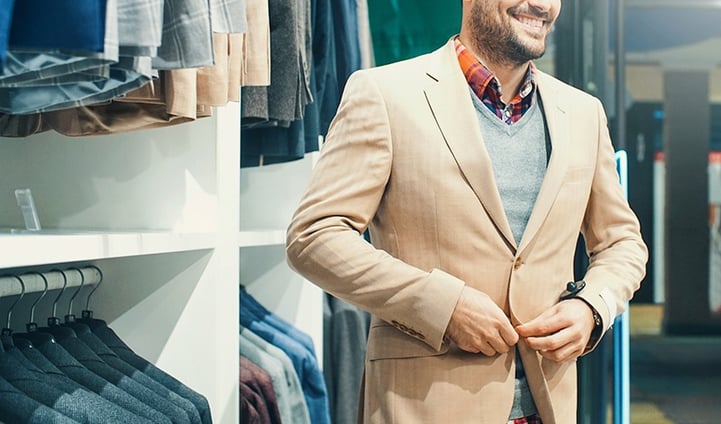 I recently bought a new coat. Not being much of a shopper, I gave the task to my wonderful wife. As it turns out, letting her pick out a coat for me wasn't really practical. Choosing style and appearance, yes (she has great taste). Selecting fit and feel, not so much.So I did the next best thing. I went to my favorite online store, chose two coats and bought them both. They arrived a couple days later for my at-home test drive. Neither coat fit correctly.
I was undaunted. The store offered hassle-free returns, a free shipping label, and a quick refund process. That part was easy. But I was still without a coat. I decided that the next attempt should include actually going into a store to try on a few options. But being that I live in the south, my store choices and selection in the stores were both pretty limited. Stuck again.
Finally, I went online to another brand I like that has stores across the U.S. I knew their clothes fit me well and they had a wider selection of styles online than what they offered in their brick-and-mortar store in my southern city. I ordered a coat that I knew would fit in a style and color I liked, had it shipped to the store, and a day later was collecting my order. I tried it on, got input from the friendly, helpful sales rep, and went home satisfied. Omnichannel for the win.
Omnichannel helps retailers because omnichannel helps customers.
The coat shopping experience got me thinking about how Qmatic helps retailers. The average consumer probably doesn't recognize or care about the complex data points and numerous touchpoints that comprise an omnichannel experience. I do because I work for the leading customer journey management technology company, but think about it – when you interact with a brand as a consumer, do consider the seamlessness of the journey itself or are you impacted by the overall outcome?
A key issue currently facing the retail industry is how to offer the same brand experience digitally and in-store. While we're online, everything we do is captured and analyzed. From the retailer's standpoint, that data is as much a benefit for the customer as it is to them – it informs a better, often tailored, experience.
When we go into a store, the experience is much more tactile. It doesn't provide the brand with any data about the customer or what you are experiencing. Unless or until you ask, the staff doesn't know what you are looking for, what size you want, what color, what the occasion is, etc. That insight requires a conversation and presumes that the customer wants help (which is not always true).
Qmatic works with many retail brands that need to improve their journey data from end-to-end, online to onsite. They need better data sets for staff and consumer touchpoints. We help brands solve these challenges by examining and clarifying the workflow in all aspects of the customer journey.
Segment, analyze, and build on customer journey touchpoints.
Using insights generated at each step in the customer journey to understand the experience as a whole engages a host of capabilities and tools in measuring, analyzing and translating data points. Qmatic provides this mix of resources and knowledge for retail brands through endeavors like Discovery Mapping, Proof of Concept offerings, and current state assessments. The value in a holistic approach can't be underestimated – too often, only one component of the journey is analyzed, leaving the retailer to guess or arbitrarily try new ways to engage. We analyze the customer, employee, and management components of the journey and provide reporting and date on specific steps that will improve and measure progress.
Qmatic is set up to offer an ecosystem of technology solutions and business intelligence tools positioned across the customer journey, each and all supported by global expertise and an innovation mindset. Every solution set is unique to the retailer. For brands we support, a full solution can include robust software that manages, measures, and reports on all key elements of the journey touchpoints. It also could mean engaging new workflow processes like providing certain services by appointment only, providing wayfinding via an app, and enabling Click and Collect functionality that enables the brand to offer customers an option to shop online and pick up in a store environment structured to ensure the collection step is thoughtful, efficient and tailored.
Ideally, a shopping experience will always be wonderful and seamless for the customer and profitable for the retailer. The reality is, omnichannel experiences are still inclined to be hit and miss because every experience is unique to the customer, and evolves even as the journey is happening. Imagine how much more agile and responsive you can be to your customers if every one of those steps offered another detail in a story.
You'd be able to take them on a journey across your brand, from online to onsite, and maybe even sell them the coat of their dreams. Qmatic can help you to be that hero.