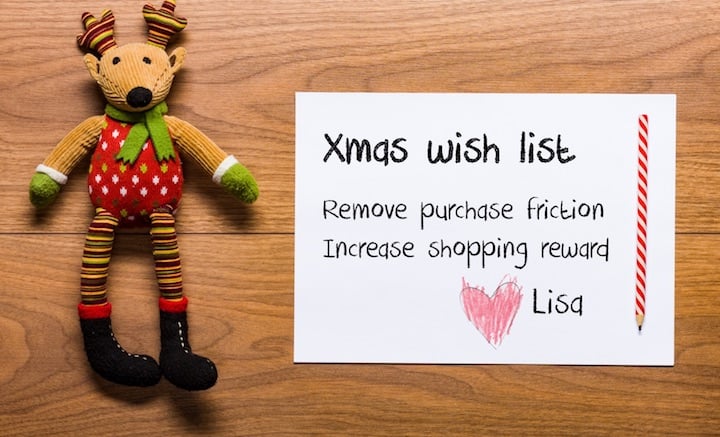 The brick and mortar store long stood as the paragon of the holiday shopping experience. No longer. Consumers are simply too time pressed and cost sensitive to limit their shopping to physical stores. With mobile and online channels becoming increasingly pervasive, retail studies are confirming that "Consumers visit stores for more than just a purchase, and their expectations of retailers are higher than before. They're looking for an informative, customized experience."[1]
With this increasingly omnichannel retail universe, the store visit is taking on an even more important role in the Age of the Customer. It's a competitive advantage for retailers that can extend the on-demand, convenience, and speed of the online experience with the tactile delights of doing holiday shopping in the real world environment. Think of the in-store as the 'last mile' for shoppers – a place to pick up items that have been sourced and ordered online, a source for inspiration, and a place to enjoy personalized attention.
Retailers can meet the demands for a stimulating, tailored, efficient on-site shopping experience by reducing friction, increasing rewards, or (ideally) doing both.
As you embark on your busy holiday season, think through whether you have every resource you need to create a smooth, simple experience enhanced with tangible and intangible rewards. We have put together a step-by-step journey to help you take the shopping experience to the next level this holiday season!
Your Store.com
You already know that consumers are more comfortable shopping online than in store. Use your online presence to find items they might overlook in store (inspire), enable them to buy online and pick up in store (accelerate), or find special deals (reward).
Bonus – your staff can use the data generated by the Click & Collect orders or deals redeemed to plan ahead for the shopper so they are ready to provide a knowledgeable, efficient, personalized interaction.
Your Store – Real World Edition
Now's your chance to delight in person. If you have the right customer journey management technologies, integrated and set up to generate business intelligence, your staff will know what to do, when, and for whom. And you're ready to create a stellar retail experience.
When they arrive, the customer can check in at a self-standing kiosk, via their mobile phone, or interact with a greeter equipped with a tablet to provide personalized welcome and assistance from the moment of arrival. If they have ordered online for in-store pick up, they can be directed to a special Click & Collect area where their order is waiting and lines are shorter, providing the efficiency and ease of an online purchase and offering the instant gratification of having the item in hand at the moment of purchase (accelerate).
Or perhaps they check in at the kiosk to get a place in the queue so they know what kind of a wait they can expect and when they will be serviced. Whether they are monitoring the digital signs throughout the store, listening for their name or service ticket, or they have opted for an SMS alert on their mobile to tell them when it's their turn, they can spend their time enjoying special holiday offerings throughout the store (inspire) – rather than standing in a line where they're statistically likely to be using their mobile phone to try to buy the item online just to get out of having to wait.
As they're wandering the store, beacons can help them quickly locate the items they want (accelerate), suggest others that might delight them (inspire), or even identify special deals throughout the environment (reward).
And better yet, team members armed with mobile tablets can come out from behind the service counter to interact with customers, adding a layer of hospitality as well as personalized recommendations for products or services. Bonus – your staff has a more fulfilling work experience!
Your customer has found the items that they need and want. They have engaged with the store environment and members of your team. They've discovered unexpected products and special deals. Now they're ready to check out. The best way to undermine holiday shopping joy? Long lines and tired, overworked team members. Self-service checkout shines here. Give customers the option to finish the way they started – with a way to manage their own customer journey.
Simplicity, Inspiration, and Rewards are Your Gifts to Give
Qmatic is a pioneer in customer journey management technologies. We have seen year after holiday year, retailers that put these pieces in place delight shoppers with an efficient, inspiring, rewarding experience that keeps them coming back throughout the year.

You don't have to take our word for it – each customer journey technology solution is integrated with powerful business intelligence solutions. As the customer leaves your store, ask them to rate their experience on a simple touchscreen device. Then use that real-time input to understand how well each of these pieces is achieving your goal to create the best possible customer experience.

Your customers want their retail shopping experience to be convenient, stress-free, rewarding, and even fun. At no other time is this true than during the holiday season. Instead of giving them long lines, elusive products, and full prices this season, why not give them a way to get more than they expect – quickly – so they can put their focus back on enjoying their holiday guests, gift giving and entertaining.

As your business heads into the busy holiday season, we can help you optimize the shopper's journey.
[1] New Research Shows How Digital Connects Shoppers to Local Stores, Google