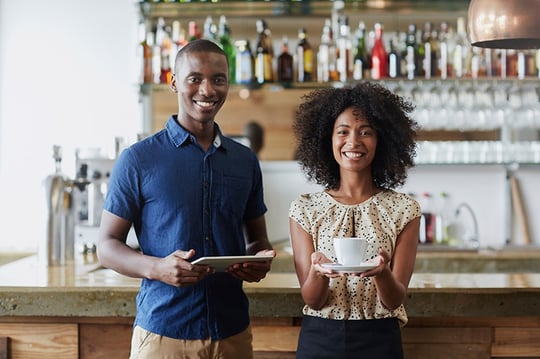 Business intelligence (BI) has become widely relied upon to deliver actionable data to employees in a much shorter period of time than has been historically possible. The process of gathering it has become a great way to give customers a voice in the content, process, and quality of their interaction with a company. Individually and combined, the resulting impact on employees and customers should be noticeably strong – provided that the BI is based on the most appropriate data, and that the resulting analytics are accessible to those who need it, and applicable to the environment and customer base.
At Qmatic, we help businesses build the BI Trifecta:
Equip customers to provide real-time input about their experience
Build rich, useful, flexible data sets accessible via mobile dashboards
Give employees access to the analytics dashboards whenever and wherever they are, improving their ability to make on the fly decisions that result in excellent, personalized service
Companies that successfully engage this trifecta provide customer experiences (CX) that improve brand loyalty (for customers and employees) and strengthen the bottom line.
How do you reach the BI Trifecta?
First and foremost, remember that the real power of BI is not limited to the data. It is also the analytics created by the data. Intelligence is real-time and directly applicable. Analytics are collective historical intelligence that has been built over time and serves to benchmark the impact of your efforts.
Second, make sure your BI structure is useful. Too many companies gather the information but don't know how to put it to use. (It's like filling your pool with the perfect temperature water, then not knowing how to swim in it.)
The greatest power of BI is how it supports on-the-fly, live decisions. When you can gather insights from across your locations, host it in a centralized location, and distribute the intelligence and analytics to the front service lines, you drive operational efficiencies and positive experiences. Wherever they are, your employees can tap into a consolidated information resource and use the information to provide the best possible customer service in the larger effort to create a CX that breeds loyalty and bottom line benefits.
Qmatic users can customize a dashboard to hone in on priority data, like the size of the workforce, the number of windows open during specific times, and numbers of customers serviced by location. Collectively, the associations between statistics and analytics show how one component of the CX effort influences one another. The BI dashboards turn data into tools that are useful across every location and engagement point, in real-time.
There's great benefit in managing what you need to measure and knowing you can use it to create great customer service, track it, measure it, fix issues, perform modeling, and even make predictions. Reaching the BI Trifecta is a tangible competitive advantage. You have the structure, input and application in place to know at every point that your brand is coming to life for customers and employees in the best way possible.
Smarter is better. As we've mentioned in the past, customer service and customer experience are not the same. Both can be great, and both can be dismal. The difference lies in the intelligence and analytics you gather, and how you put them to use.