Even with the current technology hype around iBeacons and BLE, most people probably have never heard of it. But since Apple last year subtly introduced iBeacon as part of iOS 7, more and more companies are now taking advantage of the feature and are launching early products and services.
What is iBeacons?
In essence, iBeacon is a locating system, one that runs on something called Bluetooth Low Energy (BLE). With BLE, your phone can announce its presence to other devices in range in an extremely power-efficient way.
Why is it important?
The simple answer is because it could revolutionize shopping – and many other service situations out there. iBeacons is the perfect technology to provide straightforward solutions for connecting a customer with service staff, both using beacon proximity and beacon geofencing capabilities.
Imagine if you could:
Provide customers that enter your location the information about service provided with the possibility already at the entrance to see waiting time and take a virtual ticket to a queue.
Provide customers with the possibility to select and request service by the staff at the location where they are, rather than seeking out the sales staff.
Provide the possibility to provide feedback on the service given and that this feedback is provided in real-time to the staff in the store.
Provide wayfinding based on the service requested matched to the best available resource.
Below are four examples of how to use iBeacon in connection with a mobile app and a customer journey management system that supports iBeacon integration:
Retail – Letting customers get help wherever they are in the store
When your customers need product and purchase guidance they can start a "service app" in their smartphones to get the right help. This will generate an overview of the service situation, and enable them to connect to a service where they will have the opportunity to meet the right specialist.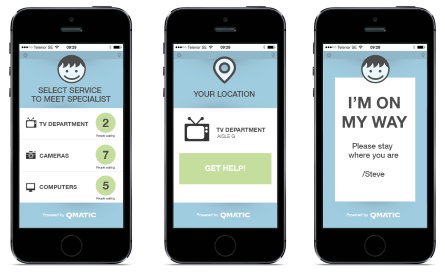 Finance – Letting customers take control of their banking office check-ins
When a customer enters your banking office for a booked appointment, but arrives a bit early, a message appears on their smartphone: "Welcome. Would you like your banking official Anna to know you're here?" When the customer confirms via a "service app" Anna now knows her customer has arrived and can start off their meeting earlier than agreed. Or if she's occupied, the customer is informed that Anna will come to the lobby to meet as soon as possible.
Healthcare – A seamless patient journey that starts from the first appointment booked.
The patient can book a time for treatment or diagnostic wherever they are via their smartphones and a "hospital app". When arriving at the hospital the patient is automatically checked-in via beacons communicating with their smartphone. Instead of waiting at the reception desk and trying to find the right waiting-room, the patient gets a personal welcome-message from their doctor and directions.
Government – Instant feedback improves service and operations.
When citizens leave a service facility such as a postal office, a beacon notifies them on their smartphone asking for their feedback. Via a "feedback app" they get a personal message from the actual service provider and can rate their experience directly.
What would this mean for the experience of your customers visiting your location for the express purpose of buying something or soliciting your services if you could offer them these opportunities?
This is often the most critical stage in your service process and in these days of making sure that every customer receives a personalized service by someone who knows something about the subject wouldn't this approach make more sense than only pushing contextual messages?
Furthermore, with this take on the iBeacon technology the application field as shown above also widens to encompass Hospitals, Government and Retail Banking.
Download the guide: How the 'digital citizen' is driving governments to adopt more innovative services
If you want to learn about the global trend of the digital citizen and how they are forcing innovations in government service provision, download the digital citizen mini guide.
Welcome to visit Qmatic's site for more inspiration on how mobile could be used to enhance the customer experience>>