The nature of banking is changing. While traditional transactions are increasingly handled online, more complex products and services, which are often important life decisions, depend on face-to-face advice from experts.
It's about functionality and getting the customer journey right to maximize sales effectiveness and create opportunities to build trust and strengthen the customer relationship. But sometimes this is easier said than done.
Customers are not loyal
Bank customers today have more choices in how, when and where they can to do their banking. Changing bank is easy and the engagement with one specific bank is not lifelong anymore. Customers are prepared to walk away from their bank if their expectations are not met. A Cap Gemini study on global retail banking states that only 50% customers will remain with their primary bank the next six months. Further, only 15% have trust and confidence in the banking industry. After all…
"Why should I settle for mediocre service? I have more options today than ever before."
So being a service provider today is not easy. Power has shifted to the customer and we all have plenty of opportunities to air our point of view in various channels.
Service providers invest in social software solutions to monitor and manage relations online. But in the quest to build the "bank of the future" and to transfer the business to online channels, many forget how easy it is to destroy the perception of the brand by neglecting what's going on in the branches they still have. When the customers becomes vocal in social media it's too late.
And boy, how vocal they can get: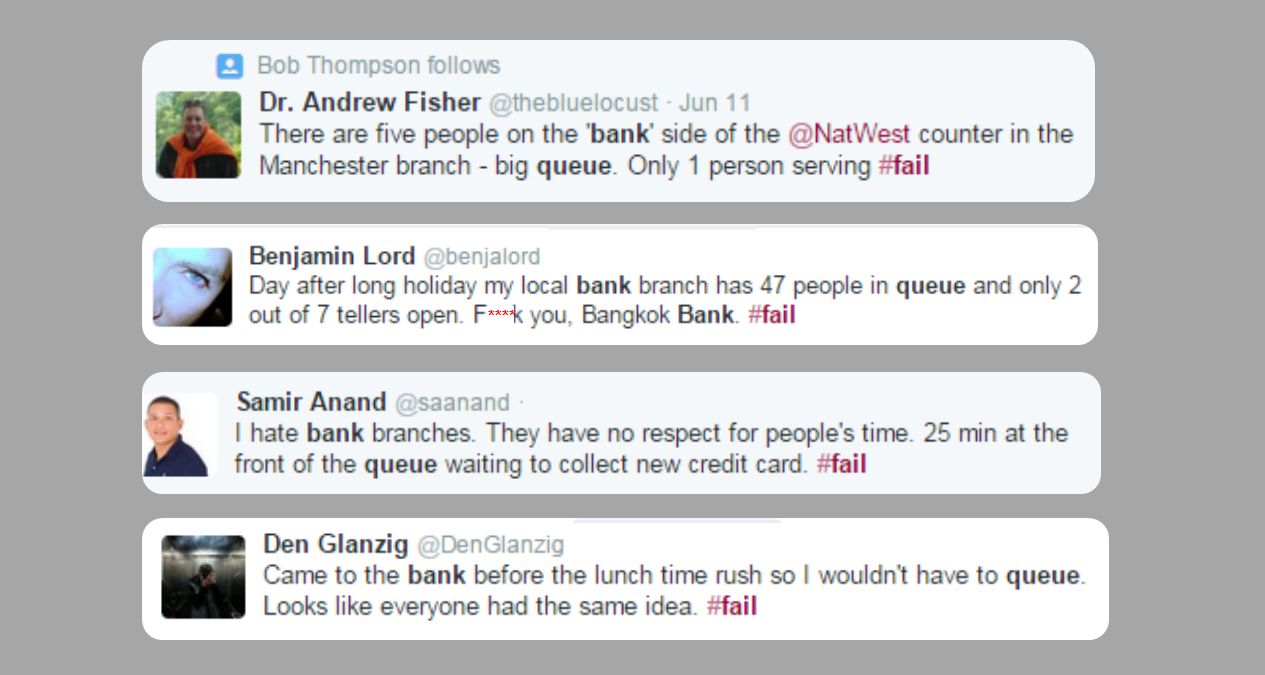 So, could these tweets have been avoided and if so, how? Let me explore this a bit more in detail.
Avoiding the hate tweets
1. Dr Andrew Fisher. When we as customers see staff dwelling while we are waiting makes us furious. It might be the case that the staff if doing something super important. But we don't care. In many cases though the staff doesn't even reflect on that people are waiting or how long they have been waiting.
An SMS alert system or a real-time staff dashboard prompting the staff to serve could have avoided this situation.
2. Benjamin Lord. This is a classic mistake service providers do when they don't have access to customer journey data. They fail to staff and roster staff based on previous customer service outcomes, historic customer flow data and past waiting times.
Collecting customer journey data and use this data to optimize staff levels and scheduling could have avoided this situation.
3. Samir Anand If you have read the whitepaper on customer journey management methodology and queuing theory provided by Qmatic you know what the problem is here. One of the first rules when managing queues is never to mix short with long transaction times. If you do so the average waiting time for everyone goes up.
Having a virtual queue management system in place segmenting services could have avoided this situation.
4. Den Glanzig. Don't we all try to get ahead. We switch queues only to find that we still end up in the slowest line, we try to figure out who in front of us will be fast and who will be slow. We try to be smarter than other customers. It almost always fails. What's needed is that the service provider that fundamentally understand customer journeys and deploys processes and tools to support all type of customers and needs.
Allowing the customer to schedule a visit with the branch ahead of time could have avoided this situation.
Summing up, more than ever before, success depends on being able to offer a customer experience that is unique and more attractive than the competition – an experience that empowers customers so that they can decide the best way to interact with your branch.
Simply put, every contact opportunity should deliver exactly what the customer wants, when they want it – if you succeed you could end up getting love tweets instead of hate tweets