Bank customers today have more choices in how, when and where they can to do their banking. Changing bank is easy and the engagement with one specific bank is not life-long anymore. Simply put, customers are prepared to walk
A recent Cap Gemini study [1] on global retail banking states that only 50% customers will remain with their primary bank the next six months. Further, only 15% have trust and confidence in the banking industry.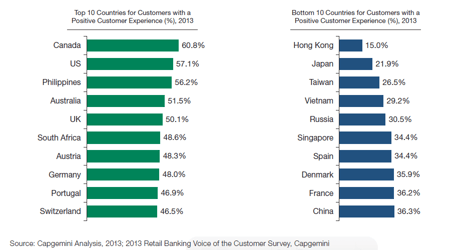 So, more than ever, banks have a need to decipher the customer experience to better understand the drivers of positive outcomes. An often forgotten touch point is the transition from the virtual to the physical world and too little time is spent on understanding how this transition and the in-branch experience can be optimized. Branches are looking for ways to reset expectations with a focus on the customer experience, maximizing cross-selling to existing customers and driving cost down.
The question is how.
There are three key areas which a bank should work to improve that will have a positive impact on the customer experience.
Increase the quality of service
Reduce the waiting time
Improve the customer's perception of the visit

At the heart of the customer experience is the quality of service provided. With a modern Customer Experience Management (CEM) solution it is possible to identify and segment customer at arrival or with a mobile app even before they arrive at the branch. Such a solution will increase service quality by better matching customers and staff, based on the customer's need and staff competence. In addition, advisors are in a stronger position to meet the need since they have access to the customer's service history and can prepare accordingly.
Customers are perhaps most aware of time when they are waiting. It creeps along. They don't feel welcome or even acknowledged. Perhaps they have an urgent or worrisome reason for visiting the branch. In this way, a reduction in waiting time goes hand in hand with an enhanced customer experience. In addition to streamlining the customer flow and making it more efficient, a solution should reduce the actual waiting time for customers by steering customers to less busy hours. This can be achieved by using a calendar booking system, for example, making it efficient to make appointments and book meetings.
At Qmatic we call this "Banking by Appointment".
Often we see big money being invested in branch digital signage. Often these solutions are poorly implemented; ranging from being in the wrong location or even worse, displaying totally irrelevant information to the visitors. A solution should reduce the perceived waiting time by using target media in the waiting area to present brand information and entertainment, for example. This transforms passive waiting into what we call active waiting or relevant distraction – for a more enlightening customer experience.
There are quite a few things a bank can do to improve the customer experience. The work needs to start though in the interaction between the virtual and physical world to understand the vital first touch point.
What's your opinion, what should banks do to improve the customer experience?
[1] World Retail Banking report 2012, Cap Gemini, EFMA