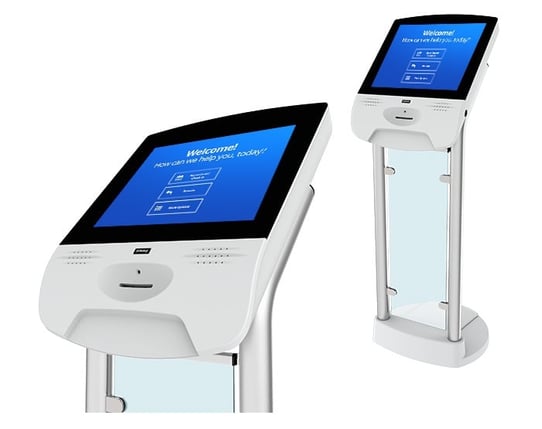 A recent study entitled "Valuing Time Over Money Is Associated With Greater Happiness" confirms what we have long suspected. First, when it comes down to it, people value time more than money. Second, they assign a high financial value to their time. And third, those who prioritize time over money tend to be happier. [1]
So it makes sense to seek ways to speed up customer service, create a more efficient environment, reduce anxiety, improve communication and control, and move more people through an environment. Increasing numbers of organizations are finding that a single, cost-effective resource exists to satisfy all of these value propositions.
Over the past few years, self-service kiosks have become simultaneously more sophisticated and simple to use. Consumers are also becoming more comfortable and willing to use them as they become familiar fixtures in environments ranging from grocery stores to hospital reception areas.
We have compiled some of the key benefits to implementing a self-service kiosk solution. We looked at banking, retail, government, and healthcare as the primary user environments but recognize that these pieces of integrated hardware can be tailored to provide tremendous value in virtually any customer service environment.
Optimal Design
A kiosk is a self-contained unit that is easy to ship and install on a table, floor stand, counter, or wall. It takes up less space than a customer service desk, kiosks .allowing you to accommodate a higher volume of customers in the environment, meaning that you can save space and money almost immediately.
Footprint
Energy saving settings and purpose-optimized designs with integrated hardware and software mean low total cost of ownership over time.
Functional
Because it is purpose-built to integrate with the centralized enterprise platform, each kiosk plays a pivotal role in streamlining the customer journey. With each use, it gathers and distributes valuable intelligence to customer service representatives who can use it to prepare and personalize each interaction. That pre-knowledge contributes to more efficient engagements, again supporting a higher volume of customers served.
Flexible
Kiosks are designed to work individually or in combination, based on the specific needs of the environment. They are entirely scalable, allowing users to connect the units to a central platform or to add card, barcode, iBeacon or QR code, or other readers to the units.
Financial Efficiency
While some would argue that augmenting or replacing customer service teams with kiosks puts jobs at risk, in effect, it creates greater value than challenges. Rather than paying employees to perform manual tasks like checking people in or helping them to fill out forms or provide information, they can focus on more fulfilling engagement tasks. Additionally, the cost of a kiosk is significantly less than an employee, which lowers overhead for the company and creates savings that can be applied to innovation, passed to the customer, or used for another higher value purpose.
At this point, kiosks are not new technology. They're just rapidly improving. Most people are familiar and comfortable with the kind of touchscreen technology that kiosks use. And they're happy to use it. In fact, the ability that a kiosk provides a customer to take control and add a higher level of efficiency to an appointment or task has shown to practically double satisfaction levels. People move smoothly from point to point in the customer journey, getting back time and feeling valued by the organization that has put these resources in place. And for the employees in these environments, satisfied customers translate to better working conditions.
Who knew? The secret to happiness for your customers and staff is contained in a simple standalone device.
Learn more about how a kiosk can transform your environment.
[1] Valuing Time Over Money Is Associated With Greater Happiness, Social Psychological and Personality Science, SAGE Journal, January 2016