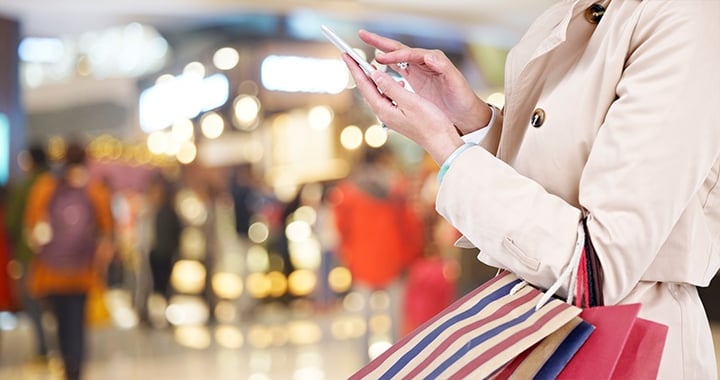 The holidays are an incredibly busy time of year. For many people, it means additional year-end work responsibilities, special events, time with family and friends, and a longer-than-usual shopping list. And most of us don't have the luxury (or foresight) to schedule a day off to knock out all of our tasks at once during a slower day in the middle of the week.
Instead, we try to take care of our errands over lunch, to fit them in between appointments, or on our way home from the office at the end of the day. Just like everyone else. So we shouldn't be surprised when we go into a store and it's filled with other people. But we are! And we shouldn't be frustrated by the fact that each of those people means we'll have to wait for our turn. But we are.
That frustration usually comes from a lack of clarity about the real situation. What may look like a long wait in a crowded store may actually only be four or five people really waiting for a turn. What we don't know is a source of very real stress and frustration. That's why it's so important for retailers to use the store environment and team members to keep the customer informed about details like the exact number of people in line, the expected wait times, and how we should prepare for our turn.
One of the great things about working with Qmatic is that everyone on our team has common customer challenges and frustrations – but we work in a company that is creating solutions. And in a case like busy customer environments, that solution is focused on improving communication. It's a process that involves numerous components working together to clarify and communicate important information throughout each step in the customer journey.
In a case like a busy retail environment, the solution would involve elements like an intelligent layout, digital signage, and an informed mobile workforce – all supported by actual, real-time data.
The Upside of Not Guessing
The old adage, "knowledge is power" is very true in the customer journey. In past posts, we've discussed the difference between actual and perceived wait time, as well as ways to make sure perceived wait time is as manageable as possible for each customer. One very significant way to do that is to communicate every detail necessary to help customers set realistic expectations and to equip staff to deliver on those expectations.
While there are a host of hardware and software tools that can simplify and optimize that process, the first step is the most important. Commit to effective, consistent communication. Convey to everyone on your team how important it is to personalize customer interactions. Have conversations, ask questions to gain useful information from the customer, and provide insights into what's happening in the store that could impact their experience.
Having the right tools make communicating significantly more effective. For example, data from online click-and-collect sales, online appointments, and self-check-in kiosks can be integrated within the customer journey enterprise platform. That information generates an accurate sense of store volume, the number of people in the queue, how many customers are going directly to an appointment or package pick-up desk, and so on. Publishing that information onto digital screens empowers each customer to have an understanding of their likely actual wait time, giving them the context they need to be able to use their time in the store productively. And by publishing that information in mobile dashboards as well, staff members can answer any question that might arise, giving them an important role to play in a satisfying, personalized experience.
Map and Track the Journey
Communication is imperative to a positive customer experience. But that external facing part of the customer journey solution is a reflection of the most important component – the data. Here's where a centralized, distributed customer journey ecosystem is revolutionary.
Integrated business intelligence gathering capabilities transform every engagement point from appointment to post-sale follow up into a robust, malleable source of analytics. Your team can read and compare known factors (e.g., appointment volume), contextual elements (e.g., weather), and even metadata. These insights clarify the information you need to share, expectations, and benchmarks.
And while these insights are incredibly valuable for helping staff members to keep customers informed, they're also useful for helping customers to know how hard the store team is working to help them take care of their tasks smoothly and efficiently. Details like these create empathy between employees and customers and remind us that while our errand lists might be unique, our experiences are quite universal.
This busy holiday season, remember – step one in a better customer experience is a commitment to communication. That commitment is best achieved with an integrated ecosystem of customer journey management solutions like mobile dashboards and digital signage. And those solutions are most effective when infused with data from integrated business intelligence capabilities.
From January 15 through 17th, our Qmatic team will be at the NRF Retail BIG Show. If you'd like to attend, go here for information about how to get passes and schedule your appointment to experience how powerful this data-shaped journey can be.