Knowing how to differentiate and personalize the customer experience requires honest feedback. Here's how to gather it quickly and with a high response rate.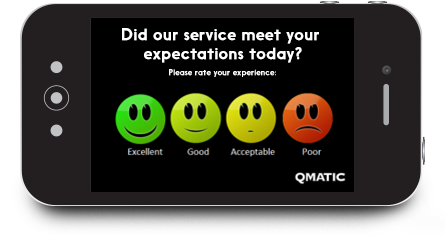 There's no doubt that we are in the Age of the Customer. In mixed product/service businesses like retailers and banks, online channels have blown open the competition for customers across the globe. And federal, state, and local government agencies are striving to update archaic systems to help their employees engage positively with citizens who often go into offices expecting inefficiencies.
Either way, gaining loyalty and mindshare requires your company can differentiate and personalize a great customer experience.
Fortunately, the current marketplace is as defined by a considerable increase in useful data as it is challenged by consumer power. With the right metrics, you can gain a solid understanding of your customer base. And with that understanding, you have resources you need to achieve high satisfaction, build customer loyalty, and reduce customer churn.
The trick is knowing how to gather and use feedback. It's important to remember that the customer experience is entirely subjective. That means you and your employees need to be prepared to hear negative feedback as well aspositive input. (You're never going to make everybody happy, plain and simple.) But negative feedback can be really useful in pointing out your opportunities and creating a culture that thrives on honest input.
The value of soliciting customer input at the point of experience is much richer than what you'll get from doing a follow-up customer feedback survey. In fact, external surveys have an expected 10-15% response rate, and can be as low as >2% if the audience isn't motivated to share their thoughts by something like existing brand loyalty or perceived benefit.[1]
On the other hand, most of your customers have a very public instant feedback mechanism in their hand at all times. At the time of writing this post, 5 of the top 20 iPhone apps are designed to enable either social media or communication. Your customer is well equipped to advocate or disparage your brand – very publicly – at will. More and more, customers are comfortable with producing feedback instantly to wide audiences.
Why not equip your customers to communicate their thoughts within a channel that helps you quantify net promoter scores and identify opportunities to improve the customer experience?
Arguably, simplicity and motivation are the two most important factors in generating a high customer response rate. By making it quick and effortless to share impressions, you're showing you care about the customer and their experience, and that you respect their time. In return, you get a higher level of feedback, as well as loyalty, trust, and commitment.
A mobile device equipped with a familiar single-touch interface that shows questions and answer options with simple, intuitive emoji images serves the purpose perfectly.
The more you can integrate the handheld or kiosk feedback units with other customer journey tools (such as digital signage or sign-in kiosks) the better able you are to control the full on-site environment. The feedback tools become a piece of a holistic system, both in the physical sense and in how the accumulated data integrates with other metrics to create a complete customer journey snapshot.
It's not hard to ask questions of your customers like, "did you have a good experience" and "would you recommend us to a friend" and effort is worthwhile. As many as 86% of customers are willing to pay more for a better customer experience – and 89% of them are willing to shift their loyalty to your competition due to a poor customer experience.[2] Your customers hold a lot of power, but ultimately, the strength of your brand is yours to control.
The proprietary Qmatic Expressia customer feedback solution gives you that advantage. Do you have the intelligence you need to thrive in the Age of the Consumer?

[1]https://www.surveygizmo.com/survey-blog/survey-response-rates/
[2] Harris Interactive http://www.oracle.com/us/products/applications/cust-exp-impact-report-epss-1560493.pdf