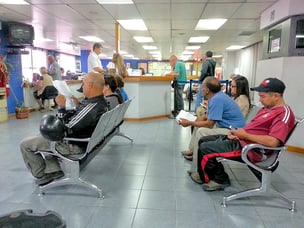 It varies by state and county, but the average national Department of Motor Vehicles (DMV) appointment takes between 34 and 44 minutes. Considering that most of us only have to go every couple of years to apply for or renew a license, manage a title, or take care of some other related task, this outlay of time isn't really all that great. But ask about anyone of driving age, and they'll say that they look forward to a DMV visit about as much as they do a dental exam or some other (often unfairly) maligned appointment.
This is in large part due to the fact that actual wait time and perceived wait time are not the same. Consider this – the average wait time for a meal at a casual restaurant is 28 minutes and we watch about 20 minutes of previews before a movie. Neither of those wait times that get compared with a colonoscopy – and in at least one of the cases, we're hungry.
Yet the DMV battles a reputation for slow processes, long wait-times, and frustrated staff. And many citizens walk into an appointment with that expectation darkening their experience before it even begins.
Many DMV locations have begun proactively working to mitigate these issues, largely by focusing on automating as many functions as possible – from appointment scheduling to duplicate driver licenses, to vehicle registration renewals. They've also begun gathering and sharing useful analytics that are helpful to creating efficiency that benefits citizens and DMV staff alike. For example – we know that the shortest wait at a branch office is on a Tuesday, Wednesday, or Thursday during the middle of the month, right before the lunch hour.[1]
How Technology Can Improve the DMV Citizen Journey
According to a widely cited DMV study from 2014, "DMV wait times appear to be independent from demand... Research shows that this is due to understaffing and old technology."[2] This finding is exemplified perfectly by the New York DMV. Just a couple of years ago, citizens in the state faced an average wait time of 72 minutes – close to twice the national average. Processes were almost entirely manual, the branch offices were inefficient, citizens were frustrated, staff was unhappy, and the organization was completing far fewer license applications than was possible.
They turned to Qmatic with a request to speed processes and improve the citizen experience. We helped them to implement resources like appointment scheduling technology on their website and self-serve kiosks in their locations. They automated appointments and other services by adding more than 35 online and mobile options, including drivers' license replacement and registration renewals.
Wait times decreased to 30 minutes – below the national average. Everyone was happier, offices increased throughput by close to twice its original level. The state won numerous awards including the 2015 Pinnacle Award from the National Association of Government Web Professionals.
Asking Citizens to Meet Them Half Way
Tools and information are only as useful as the level to which they're engaged. Citizens have a role to play in improving the experience. Around the country, DMVs are using their web and mobile sites to allow citizens to schedule applications, download and/or submit required forms, and to list the documents and payment that will be necessary to complete their transaction. They're even providing study materials to lower the chances that a driver will have to re-take an exam.
Wasted time and effort are frustrating for citizens and expensive for government agencies like the DMV. As the New York DMV have seen – by working together, agencies, their staff, and their citizens can put technology and information to good use to improve the citizen journey for all.
Contact Qmatic to see how we can help improve your citizen experience.
[1]http://www.dmv.org/articles/the-best-and-worst-times-to-visit-the-dmv/
[2] DMV STUDY: WHY SOME STATES HAVE LONGER WAIT TIMES AT THE DMV, DMV.com, 2014