Qmatic Releases New Healthcare Offering that Seamlessly Integrates Qmatic Orchestra 7 with Hospital Information System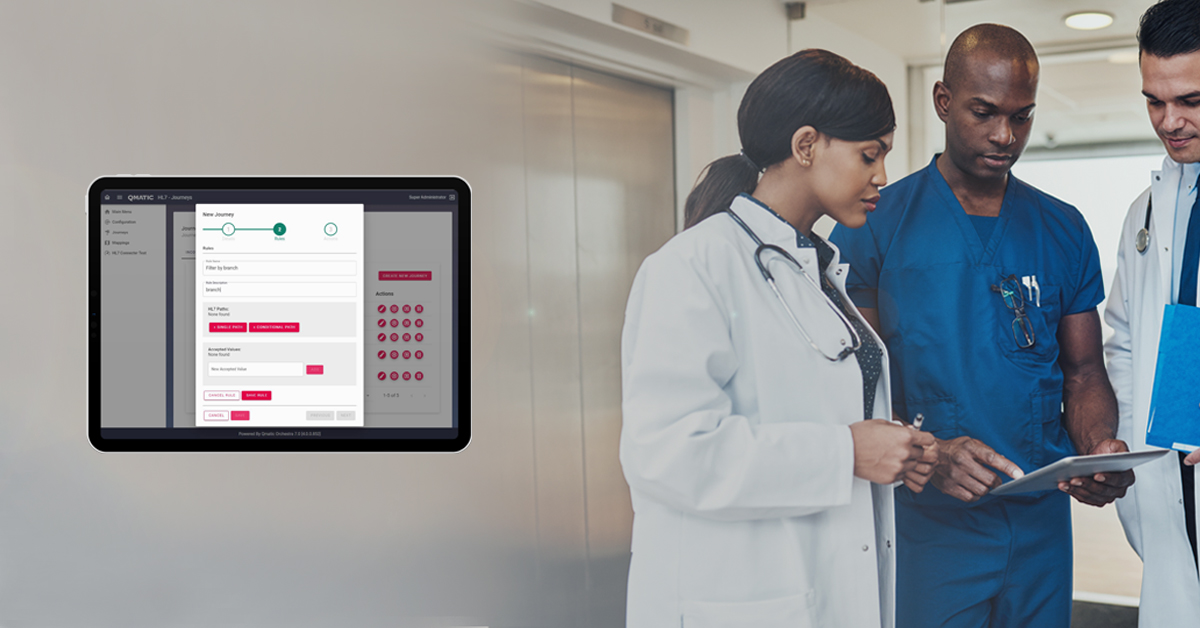 Mölndal, Sweden - Qmatic, the global leader in Customer Journey Management, today announced a new package offering for healthcare with the release of Qmatic's latest and improved HL7 middleware module. The HL7 middleware module seamlessly integrates Qmatic Orchestra 7 with a Hospital Information System (HIS) and offers a predefined package of the most requested features for a redefined patient journey and optimized healthcare experience.
Qmatic's HL7 middleware module
Qmatic's HL7 middleware module is developed through our extensive experience of HIS integrations and installations for clients in the healthcare sector around the globe and makes it possible to seamlessly integrate and manage the patient journey from a HIS and get access to the world-class functionality of Qmatic's Orchestra 7 with the Health Level Seven (HL7) standard.
The new healthcare offering from Qmatic supports the three most common patient flows within healthcare, pre-arrival, arrival, and serving, which allows healthcare providers to manage appointments, walk-ins, and emergency patients from arrival to discharge. This enables management and healthcare professional the possibility to deliver the best possible care for patients with an optimized patient journey and efficient utilization of healthcare resources.
Our most requested healthcare features – now available to everyone
The predefined package consists of the most utilized and requested features by healthcare providers. The features allow users to manage the counter from a touch screen with the ability to synchronize appointment data, call and redirect patients, while having access to real-time data insights that display waiting times, transaction time, and the number of patients waiting. With an integrated patient journey management solution, healthcare providers can better inform patients waiting by positing information about appointment numbers, location information, wait times and other important messages on dedicated screens throughout the hospital environment. Ensuring that patients stay informed about service and wait time specifics, which reduces uncertainty and dramatically speeds the service process by calling patients forward at the right time.
Qmatic Orchestra 7
Qmatic Orchestra 7 is an industry-leading platform for advanced customer journey management. With its modular and flexible solutions, users have access to powerful solutions to manage every stage of the customer journey with online appointment booking, mobile tickets, customer feedback, business intelligence and statistics. By improving the patient flow in a user-friendly and efficient way at every touchpoint, users can reduce wait times, improve the efficiency in which patients are processed, and give staff vastly improved data visibility on their patients. The capacity of the HL7 middleware module is constantly evolving to meet the diverse demands of today and future challenges by continuously supporting client specific patient flows with a robust future-proofed solution.
For more information please contact:
Robert Ekström
President and CEO
robert.ekstrom@qmatic.com
+46 733 552602
Peter Lundqvist
Chief Marketing Officer
peter.lundqvist@qmatic.com
+46 706 739005
About Qmatic
Qmatic is the global leader in customer journey management, enabling 2 billion yearly customer journeys in over 120 countries. More than 30 years of innovation has given Qmatic the technical advantage to create valuable customer experiences by connecting people to services. We simplify contacts, reduce friction, and save time and money for our clients in retail, finance, health services and public sector. Today and in the future.
For more information on Qmatic's offerings, please contact us, or follow us on Twitter, Facebook and LinkedIn.