We live in a world of digital transformation and an explosion of information. Organisations in all sectors are challenged to keep data safe. But, keeping data safe is much more than just sending encrypted messages and working with 'strong passwords'.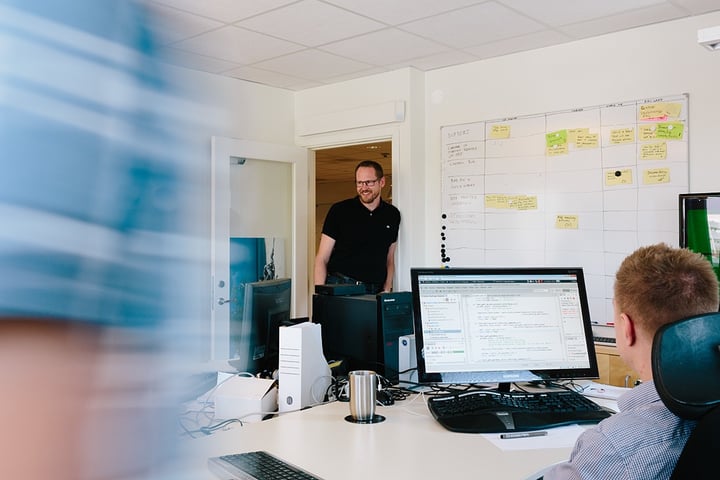 It's all about implementing the right processes, training staff, working with safe and reliable customer journey management technology and partners that know their business.
Earlier this year, the global Breach Level Index reported that the number of data breaches increased with 86%, in the past year alone. This underpins the need for data protection and safety. Another driver to improve data security is the upcoming GDPR legislation that will take effect per May 2018. As strategic partner for many leading brands, we aim to keep the data of our customers (and their customers) safe. That is why we have taken steps to improve the security of our customer journey management technology platform Orchestra. In this process, we have built on recommendations and best practices from organizations such as ISO and OWASP (Open Webb Application Security Project). It also means that our management and development teams are trained in developing software with data security in mind.
Based on our experience in optimizing customer journeys with data security in mind, we have formulated four tips that can help you improve data security in your customer journey management solution, and organisation.
• Get the knowledge
The first step should always be to make sure you actually know what data you have, where the data is, and who is responsible for it. One way to keep track of data is to construct and maintain a data asset log, this way you can be sure any changes you do will include the data assets that are relevant in each case.
• Give your employees the right tools and insights
Inform staff on their specific role in all data security processes and other measures put in place to safeguard data security. Educate employees on what to do in case of a data breach and give them the right tools to take informed decisions.
• Work with partners who know their business
All organisations are part of an ecosystem of suppliers, customers and relations that in one way or another process data. Take for example the supplier of your queueing system, appointment system or external help desk. Make agreements on this subject and put them down in a contract. Make sure that you work with a partner that already have a policy in place and know what to do in case of data breach. It is better to be safe than sorry.
• Safe software
In our digital world we all work with many IT systems and software programs. Make sure that the IT solutions you are working with are secure, tested against OWASP best practices of most critical and common threats to help you comply with the new legislation.
If you want to know more about how Qmatic has improved the security of our Customer Journey Management Platform Orchestra 6.2, download the whitepaper here.