UAE Ministry of Health and Prevention invites Qmatic to present its solutions at Arab Health, MEA's largest healthcare trade show
Swedish company Qmatic, a global leader in knowledge and technology solutions for managing the patient journey (Patient Journey Management), is announcing today that it will participate in the largest healthcare trade show in the Middle East and North Africa – Arab Health 2017, held in Dubai.
The show, with over 4 400 exhibitors from over 70 countries, is expected to draw 115 000 visitors. Thirty-eight countries have their own pavilions, and Qmatic has been invited to present its solutions at the Ministry of Health and Prevention's booth at the Dubai International Exhibition and Convention Center.
"Qmatic currently delivers software-based systems and mobile applications to healthcare providers in UAE, giving their patients a quicker, more seamless healthcare experience," says Qmatic's CEO Robert Ekström.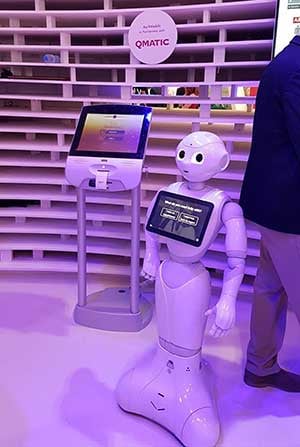 "Through our long-term, focused efforts in this region, we have obtained a position as one of the leading players when it comes to innovative patient management. For this reason, and to see how we can help the country's residents in the future, UAE's Ministry of Health and Prevention has asked us to present our latest innovations at Arab Health 2017."
Notable among the new solutions is Pepper, a 120 cm-tall social robot who, using software apps from Qmatic, helps welcome and register patients when they arrive at the hospital or healthcare center. Together with partners, Qmatic will also demonstrate advanced systems for face recognition as well as a number of mobile solutions that enable check-in and communication between patients and healthcare providers.
"Qmatic's solutions have become popular very quickly in the Middle East, and several of the region's largest hospitals have invested in our technology," says Ekström.
Qmatic will present its solutions in the Ministry of Health and Prevention pavilion, Hall 5, Stand CC50 at Arab Health, Dubai International Convention & Exhibition Centre in Dubai, from January 30th to February 2nd, 2017.
For more information, please contact:
Sven-Olof Husmark
Chief Marketing Officer
+46 70 105 4628
Sven-olof.husmark@qmatic.com
About Qmatic
Qmatic Group is a market-leading technology supplier for Patient Management and Insights. For over 30 years, we have helped private and public organizations create fantastic customer journeys using software and hardware solutions that seamlessly manage both digital and physical customer interaction. Our integrated software platform as well as our mobile approach and BI tools provide insights for better managing customer interaction, running campaigns, and optimizing personnel and resource planning. More than 2 billion customer journeys are made possible through Qmatic every year. Headquartered in Sweden, Qmatic has over 300 employees and operates in more than 120 countries. www.qmatic.com