Qmatic to provide virtual queuing solution for British Airways at Heathrow
Mölndal, Sweden – Qmatic, a global leader in Customer Journey Management, today announced a new partnership with British Airways. For three months, the airline will be trialing a Qmatic solution that lets customers at Heathrow Terminal 5 (the airline's home hub in London) queue digitally at check-in by booking a virtual queue slot – before even arriving at the airport.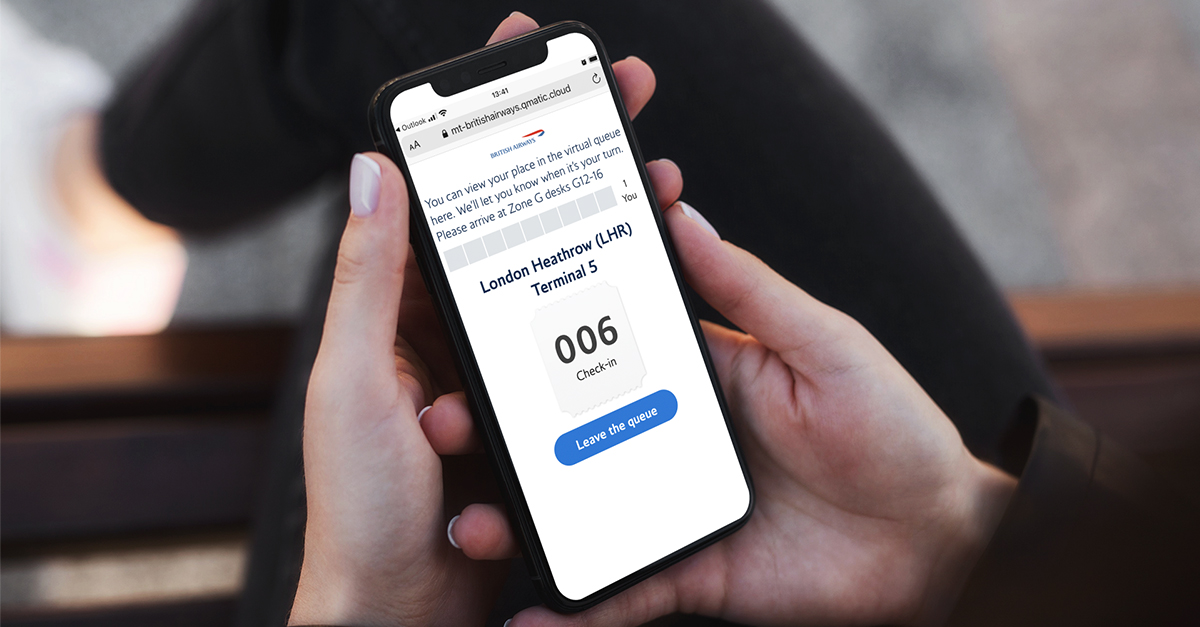 Qmatic's Customer Journey Management solutions are already used in thousands of businesses and organisations around the world, but British Airways will be one of the first airline to use the services.
"We know that customers in the Covid-19 era have been travelling less than normally, and in most cases not at all," said Declan Pollard, British Airways' Head of Heathrow Customer Experience. "We realise that many people will feel unfamiliar with the airport journey, and that's why we are exploring technology to simplify that experience for them."
"Virtual queuing means that our customers can plan their departure, assured that they'll have a dedicated slot to check-in as they start their safe and convenient journey through the airport," Declan Pollard continued. "We think that virtual queuing technology will make our customers feel safe as it efficiently manages the customer flow through the airport."
Before their journey, passengers will get an email with an invitation to book a slot in the virtual queue. When it is time to check-in, they will be notified that it is their turn to go to the right desk where the airline's customer service team will be ready to receive them.
"As the world is starting to open again after the pandemic, we are pleased to provide our clients a safe way for their customers and staff to deliver a great and time-saving customer service. We see this need in all sectors and we believe this will be a new opportunity for our clients to streamline their way of serving their customers," said Robert Ekström, CEO of Qmatic.
British Airways is also exploring digital travel apps to help customers meet the entry requirements for their destination before arriving at the airport, and recently the airline also started inviting customers flying to India to submit their travel documents online before arriving at the airport, avoiding the need to queue there.
This curiosity for integration with new technologies, and the ambition to further streamline the customer experience are values that British Airways and Qmatic share, making this an exciting trial.
For more information please contact:
Robert Ekström
President and CEO
robert.ekstrom@qmatic.com
+46 733 552602
Peter Lundqvist
Chief Marketing Officer
peter.lundqvist@qmatic.com
+46 706 739005
About Qmatic
Qmatic is a global leader in customer journey management, enabling 2 billion yearly customer journeys in over 120 countries. 40 years of innovation has given Qmatic the technical advantage to create valuable customer experiences by connecting people to services. We simplify contacts, reduce friction, and save time and money for our clients in retail, finance, health services and public sector. Today and in the future.
Read the press release from British Airways here.