Qmatic Releases New Feature for Appointments - Touchless Self Check-in
Qmatic now enhances its appointment check-in functionality with the release of a new feature that offers a safe and touchless customer journey via mobile check-in.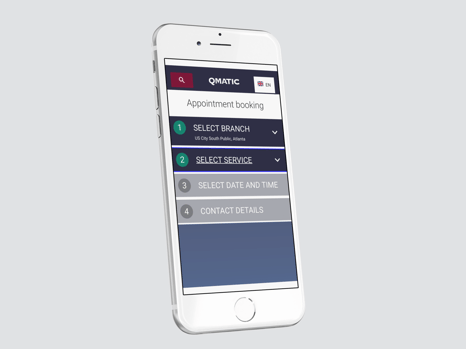 Qmatic has enhanced its appointment check-in functionality with the release of a new mobile check-in feature that allows customers and visitors with an appointment to seamlessly self check-in upon arrival, touchless, without any kiosk or staff interaction.
Touchless self check-in
The mobile check-in feature further enhances Qmatic's Customer Journey Management platform with a touchless self check-in mobile solution for customers with a booked appointment. Using mobile check-in, customers are empowered to check-in to their appointment via mobile and issue a Mobile Ticket upon arrival without any staff interaction, allowing customers to safely wait outside the premises until called.
Streamline the check-in process for appointments
The new functionality makes it possible for healthcare organizations, the public sector, retailers and financial institutions to enhance their customer experience and customer flow by streamlining the check-in process from appointment to service provided, while ensuring a safe, touchless customer journey amid the COVID-19 pandemic and beyond.
Qmatic Appointment Management – Adapt to current and future challenges
Whether you want to implement an appointment-only policy or create a better balance between appointments and walk-ins for a safer environment and optimized operations, Qmatic's world-class Appointment Management platform enables users to schedule appointments online or over the phone, and safely move from check-in to service. Making it possible for businesses and organizations to adhere to social distancing recommendations and limit the number of customers on and outside their premises, ensuring a safer environment for staff and customers. With Qmatic Appointment Management businesses and organizations can reduce the number of no-show appointments and gather data for real-time monitoring, as well as reporting, analyzing and optimizing operations.
For more information about Qmatic's Customer Journey Management solutions please visit www.qmatic.com, or contact your local sales representative.