Qmatic hires Richard Gowin to its German office in Bocholt
At Qmatic, we are delighted to announce the latest addition to strengthen our global team, as Qmatic hires Richard Gowin as Sales and Business Development Executive to Qmatic's German office in Bocholt.
Richard will replace Timur Citlak and will in his role as Sales and Business Development Executive focus on the retail sector. Richard has international experience and extensive consumer knowledge with previous experience from senior leadership positions in global software companies such as Reflexis and Automic Software and will with his expertise greatly strengthen Qmatic's global team.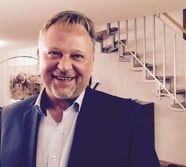 "My passion is connecting with customers and prospects alike. And I'm ready to discover how Qmatic enables Finance, Government, Healthcare and Retail organizations to boost their customer journeys, meet KPIs and deliver against what customers demand in the age of Digitalization. Continuing to ensure that organizations have the best opportunity to meet the demands of today's and future customers," said Richard Gowin.
Renze de Ruiter, Vice President, Qmatic Northern Europe commented, "I'm very pleased that Richard has joined Qmatic. Richard is a results-driven professional with a proven track record of increasing sales revenues beyond expectations in enterprise software and technology solution sales. With his targeted approach, Richard will bring value to clients and organizations around the world, continuing Qmatic's journey in providing rich customer experiences and frictionless customer journeys at every touchpoint."
For more information please contact:
Renze De Ruiter
Vice President, Qmatic Northern Europe
renze.deruiter@qmatic.com
+31 71 402 33 44
About Qmatic
Qmatic is the global leader in customer journey management, enabling 2 billion yearly customer journeys in over 120 countries. More than 30 years of innovation has given Qmatic the technical advantage to create valuable customer experiences by connecting people to services. We simplify contacts, reduce friction, and save time and money for our customers in retail, finance, health services and public sector. Today and in the future.