Qmatic Appoints Peter Lundqvist as new CMO
Mölndal, Sweden, May 12, 2017 - Senior marketing executive Peter Lundqvist is appointed Chief Marketing Officer at Qmatic. As the head of global marketing he will play a key role in driving the worldwide growth of Qmatic.
"Peter brings extraordinary business and marketing leadership to Qmatic in an exciting time. We are gearing up to meet the opportunities for growth based on the needs we see globally. Peter's insight and knowledge will help us elevate the Qmatic brand even further," Qmatic CEO Robert Ekstrom comments.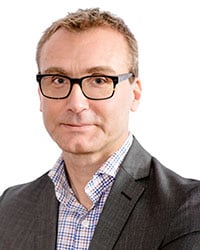 Peter Lundqvist has a solid background with over 20 years of experience from various senior positions in the field of marketing. He comes from a position as Director, Global Marketing Services for Autodesk,
a multinational leader in software for 3D design, engineering and entertainment.
"I am thrilled to have joined the Qmatic team," said Peter Lundqvist: "It's clear to me that Qmatic adds significant value to organizations by providing the tools to streamline and digitize the customer journey. Qmatic has an outstanding history of innovation excellence that has enabled us to become the market leader, and I'm excited to contribute with my expertise to drive global growth."
Peter Lundqvist will replace Sven-Olof Husmark who, after nine years at Qmatic Group, has been appointed CEO for a company in the cleantech sector.
For more information please contact:
Robert Ekström
President and CEO
robert.ekstrom@qmatic.com
+46 (0)31 756 46 15
About Qmatic
Qmatic Group leads the market in customer journey management technology solutions. For more than 30 years, we have helped public and private organizations create remarkable customer experiences with software and hardware solutions that seamlessly connect online and onsite engagements. Our integrated enterprise platform and analytics provide the insights to better orchestrate customer interactions, offer timely promotions, and optimize staff and resource planning. Every year we enable 2 billion customer journeys across 120 countries. Qmatic has its headquarters in Sweden and is represented globally through a broad network of subsidiaries and partners.