Qmatic Announces New Functionality for Remote Service Delivery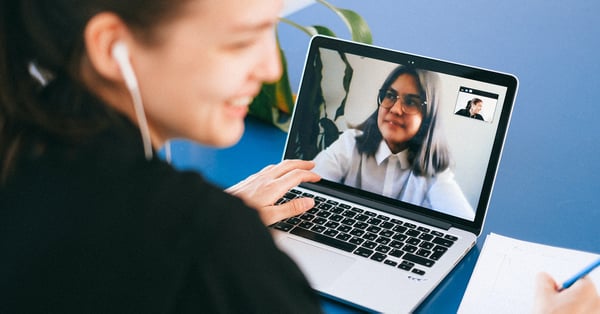 Qmatic, the global leader in Customer Journey Management announced today its latest functionality, Remote Service Delivery for Qmatic's Customer Journey Management solutions. Remote Service Delivery provide new ways for Qmatic users to easily select remote appointment options, such as voice call, video call or chat when scheduling an appointment. Making Qmatic's Customer Journey Management platform even more powerful to use.
"Our mission is to connect people to services, and at Qmatic, we always look for ways to enhance our products and solutions to meet the demands of our users. With Remote Service Delivery we can now offer Qmatic users a digitized, streamlined, and enhanced customer journey regardless of their location," said Magnus Dahlbäck, SVP of Product and Strategy, "We believe that by supporting integrations with well-known solutions, such as Microsoft Teams, which has become, for many, an essential part of our everyday lives, we can empower customers to pick and choose the option that suits them best. This way we strengthen and simplify our Clients' ability to stay connected to their customers."
Remote Service Delivery
Remote Service Delivery makes it easier than ever for businesses and organizations to digitize their customer experience and customer flow, by providing services via voice, video, and chat. This will streamline and facilitate the communication between businesses and customers. When an appointment is scheduled with Remote Service Delivery, Qmatic will automatically send out a confirmation notification with a meeting link to an online meeting. This will make it easier for customers to stay connected to services and save time, and at the same time reduce meeting no-shows, creating better real-time customer interactions whenever it suits them best. The new functionality also helps organizations to reduce the number of physical interactions and create a safer environment for staff and customers amid the COVID-19 pandemic and beyond. Remote Service Delivery is available for Qmatic's Customer Journey Management platforms – Qmatic Orchestra 7 and Qmatic Cloud Solutions. The integration will initially be available for Microsoft Teams, where other integrations with other popular platforms will continuously be developed and offered to Clients based on market demand.
Qmatic Appointment Management
Whether you want to implement an appointment-only policy or create a better balance between appointments and walk-ins for a safe and secure environment and optimized operations, Qmatic's world-class Appointment Management enables users to schedule appointments online or over the phone, and safely move from check-in to service. With extended capabilities via Remote Service Delivery, we can now also offer video calls or chat functionality when booking an appointment. Appointment Management from Qmatic makes it possible for businesses and organizations to adhere to social distancing recommendations, minimize customer interactions, and limit the number of customers in and outside their premises, ensuring a safe environment for staff and customers. With Qmatic Appointment Management businesses and organizations greatly reduces the number of no-show appointments, and gather data for real-time monitoring, as well as reporting and analyzing, ensuring optimized business operations.
To learn more about Qmatic's Appointment Management solutions, please reach out to your local sales representative or contact us today.