Qmatic Introduces Industry's First Integrated Mobile Queue Management and Gamification App
The Myfunwait® mobile app works with the company's customer journey management platform to deliver an immersive experience.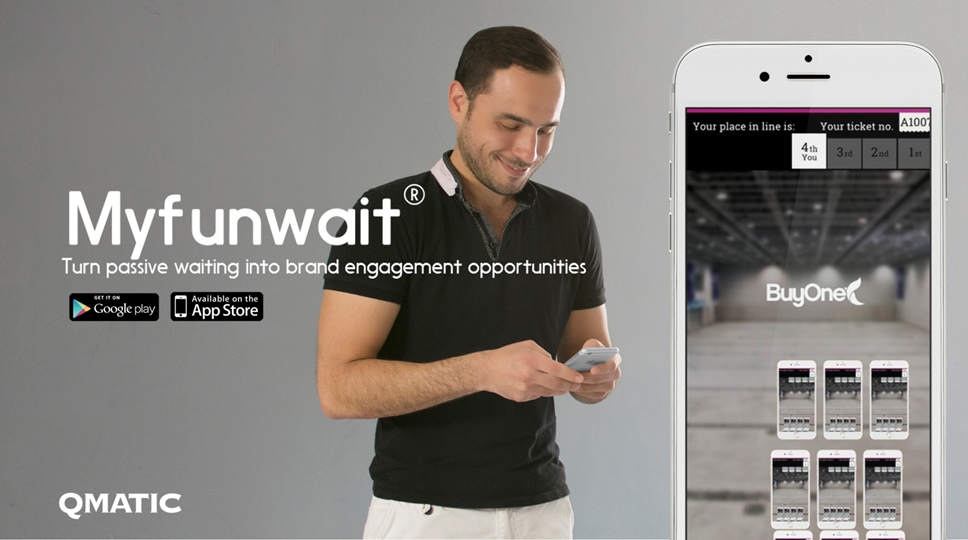 Qmatic today announced the release of its new integrated queue management app, Myfunwait. Developed in conjunction with Sticky Beat, a digital experience agency, the app is the first to integrate gamification with real-time queue management and showcases Qmatic's expertise in translating passive wait time into brand engagement opportunities that improve the customer experience.
"The fact is, waiting is part of many customer journeys, despite companies' best efforts to eliminate it," said Jeff Green, CEO of Qmatic U.S. "An occupied wait shortens the customer's perceived wait time and results in a better customer experience," he explained, "so the Myfunwait app offers brands a platform to fully engage, entertain and even educate customers while they wait without being distracted by the process of actually waiting. All of a sudden, the wait is over and it was enjoyable."
Customers already often use their mobile phone to occupy their time while they wait. A 2015 survey by Pew Research Center found that 77 percent of Americans turned to their smartphone to avoid being bored, and 53 percent pulled out their smartphone while waiting in line.
The Myfunwait app, integrated into Qmatic's powerful customer journey management platform, Orchestra, via a new API gateway, provides customers with real-time, personalized updates about the status of their wait within the app as they test their skills or knowledge on games or quizzes offered within the app. The app also allows customers the flexibility to move away from an immediate waiting area to a more private or comfortable environment for their wait while still being able to monitor their place in line, effectively reducing their perceived wait time.
While 68 percent of today's mobile phone users are also mobile phone gamers, an interactive game is just one way the app can be tailored to engage waiting customers. "There's almost no limit to how the Myfunwait app can be customized to support an organization's desire to positively and productively engage customers during their wait and achieve specific business objectives," said Green.
"The Myfunwait app reflects our strategic investment in future-focused cloud customer journey management solutions, and in particular, mobile applications that advance the customer experience," shared Sven-Olof Husmark, vice president and CMO of Qmatic Group. "As a market leader serving clients in various industries around the globe, we are counted on to deliver solutions that provide greater operational efficiency and a better customer experience today as much as we are for our vision of how the customer journey will evolve going forward."
About Qmatic
Qmatic Group leads the market in customer journey technology solutions. For more than 30 years, we have helped public and private organizations create remarkable customer experiences with software and hardware solutions that seamlessly manage online and onsite engagement points. Our integrated enterprise platform and analytics provide the insights to better orchestrate customer interactions, offer timely promotions, and optimize staff and resource planning. We operate in more than 120 countries with global headquarters in Sweden and a leading presence in North America.