Hospital San Pedro de Alcántara Leverages Qmatic for Safer Patient Experience

The Spanish hospital, Hospital San Pedro de Alcántara, partners with Qmatic to respond to Covid-19 by implementing Qmatic's Patient Journey Management platform Orchestra 7. The solution enables the hospital to effectively manage crowds, reduce wait times, and eliminate crowded waiting rooms, creating a safer patient and staff environment.
The Spanish health care provider is under strain as Covid-19 surges back. In response to the increasing number of Covid-19 cases and hospital admissions, Hospital San Pedro de Alcantara chooses Qmatic's patient journey management solution to digitally transform the patient journey. The solution includes Qmatic's appointment management, digital signage, contactless check-ins via self-service kiosks, and Business Intelligence. This allows the Hospital to effectively manage appointments, walk-ins, and emergency patients all the way from arrival to discharge, ensuring a safe, optimized, and contactless patient experience.
By allowing patients themselves book an appointment online or by phone, the Hospital can now better manage the patient flow throughout the day and eliminating the need for patients to congregate in a traditional waiting room setting. The solution also makes it easier to plan the workload in advance and steer appointments to less busy hours, minimizing the spread of Covid-19 on their premises and offer a safe and secure environment for patients and staff.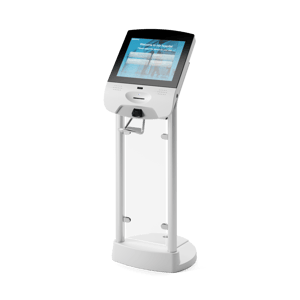 Before in-person appointments, the Hospital screens patients using thermal imaging cameras to measure the temperature of the patients to identify possible COVID-19 symptoms. Once the patient arrives for their appointment, the appointment booking solution is leveraged to enable a contactless check-in process by scanning a QR code with Qmatic's Intro 17 kiosk barcode scanner located at the entrance.
With contactless check-in, enhanced patient information before and during the visit, and the ability to provide real-time instructions to patients. The hospital can deliver a patient-centered experience with enhanced patient communication and successfully improve no-show rates and patient satisfaction.
Hospital San Pedro de Alcántara is part of the public Healthcare System, Extremadura's Healthcare Service, which involves 14 hospitals with around 3000 beds, 113 Community Health Centers, 420 Primary care Centers and over 18000 professionals. Extremadura's Healthcare Service is managed by a powerful Healthcare Information System (JARA) that provides 100% electronic prescription and an integrated medical record (primary and specialized care), which is seamlessly integrated with Qmatic's Patient Journey Management solution.
Learn more about Qmatic patient journey management solutions

here
.