Former Volvo Cars executive appointed Vice President of HR at Qmatic
Mölndal, Sweden, May 15, 2017 - Monica Tapper is appointed new Vice President, Human Resources at Qmatic. The former Volvo Cars executive will play a key role in supporting Qmatic's global growth strategy with the right talent.
Monica Tapper comes to Qmatic from Volvo Car Group, a Swedish vehicle manufacturer wholly owned by Geely of China, where she has held several senior positions within HR and talent management, most recently as the Vice President Human Resources Purchasing and Manufacturing.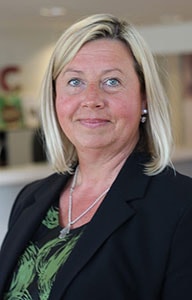 "As we see a growing demand in the global market for our solutions we are ramping up on all fronts. I am therefore very pleased and excited to welcome Monica as a key part of our senior leadership team," said Robert Ekstrom, Qmatic's CEO adding: "Monica will work closely with me and the management team to assure that Qmatic develops its global business, attracts and retains top talent, and further enhances our culture which has contributed to making us the international market leader. This goes together with our
"I am excited to join Qmatic," said Monica: "I am looking to support the company in its growth globally by evolving the way we recruit and develop our staff to meet new requirements from our customers."commitment to great customer experience and operational excellence."
For more information please contact:
Robert Ekström
President and CEO
robert.ekstrom@qmatic.com
+46 (0)31 756 46 15
About Qmatic
Qmatic Group leads the market in customer journey management technology solutions. For more than 30 years, we have helped public and private organizations create remarkable customer experiences with software and hardware solutions that seamlessly connect online and onsite engagements. Our integrated enterprise platform and analytics provide the insights to better orchestrate customer interactions, offer timely promotions, and optimize staff and resource planning. Every year we enable 2 billion customer journeys across 120 countries. Qmatic has its headquarters in Sweden and is represented globally through a broad network of subsidiaries and partners.