City of Ninove chooses Qmatic for their vaccination center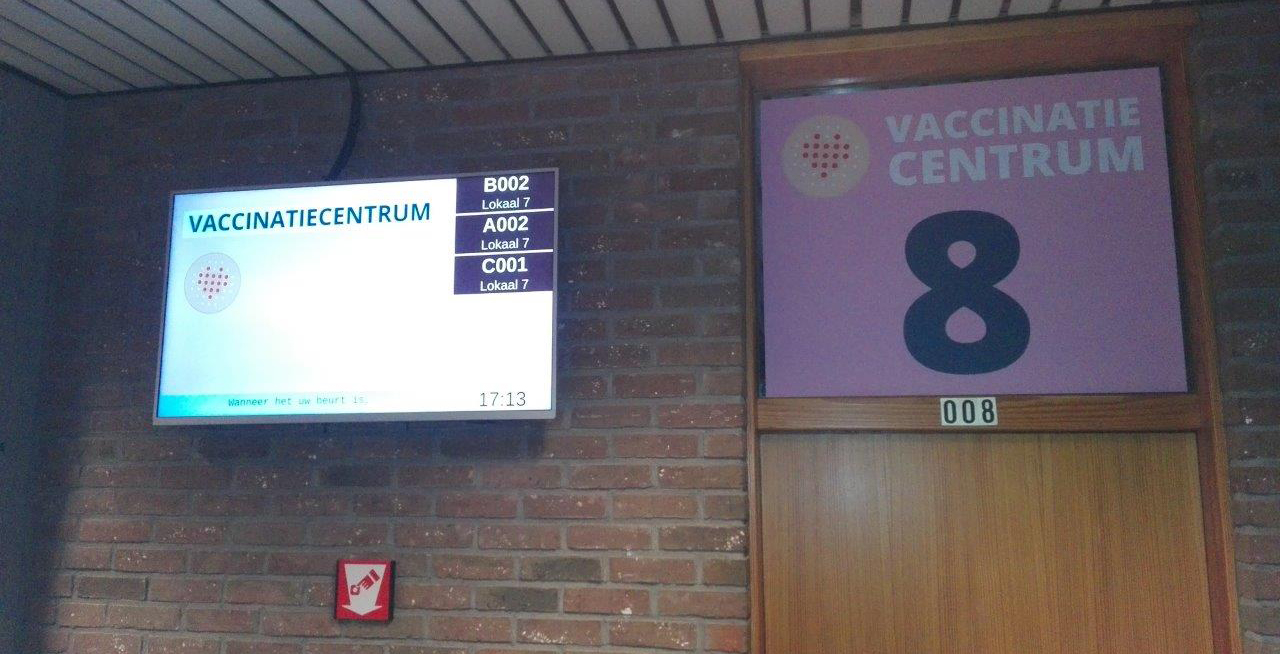 When the Belgian City of Ninove was to set up a temporary center to distribute COVID-19 vaccinations to their citizens, they chose Qmatic to help them minimize waiting times while enabling social distancing for all visitors.
On a location built for other purposes than mass vaccination, there was a great need to properly regulate the flow of citizens through a ticketing system. When citizens are welcomed at the reception and checked in, they have to wait in a shared waiting area until they are called to one of the available vaccination booths. Every single booth handles the inquiry process as well as the vaccination of a citizen. It is important that the citizens are correctly referred to the next available booth after their ticket number is called.
The city has already had Qmatic's Orchestra 6 solution in their town hall, where tickets are distributed to the citizens via a ticket printer and the calls appear on a TV screen via a Qmatic media hub for the services within the Civil Registry.
"As a local government, we are committed to providing various public services to our citizens," said Bjorn Hemmeryckx, the IT manager at the center. "These services should be made available in the smoothest possible way."
Because of the COVID-19 crisis, citizen service is now mainly done by appointment. This was already possible in the city's Orchestra system, though not used. After some adjustments, they can easily use it for the vaccination center. The ticket printer and media hub were moved and put into the right network, and after reconfiguring the solution with a little help from Qmatic, it was initiated in the vaccination center.
"For the system reconfiguration, I was able to easily call on Qmatic," said Bjorn Hemmeryckx. "Once I have mastered the setup, I can easily make changes to the system myself via the Orchestra website."
A ticketing system was indispensable to control the flow of citizens and the referral to the various vaccination rooms. At the reception they can choose the correct vaccine line via the five buttons available on the ticket printer. Color-coded options and two large TVs connected to a Qmatic media hub makes the process transparent and easy for staff as well as visitors.
"Together with the auditory signal and the clear indication of the number and the room, this is a perfect solution for our center," said the center manager Tom Ooms.
The medical staff performing the vaccinations can log on to the orchestra website from their vaccination booth and put themselves in the correct vaccination line. After that, they can easily call the next citizen for their vaccination.
Learn more about our queuing solutions for vaccinations here