Qmatic introduces next generation of touch screen self-service kiosk
Mölndal, Sweden. Qmatic, the leader in Customer Journey Management introduced today the latest version of Qmatic Intro 8.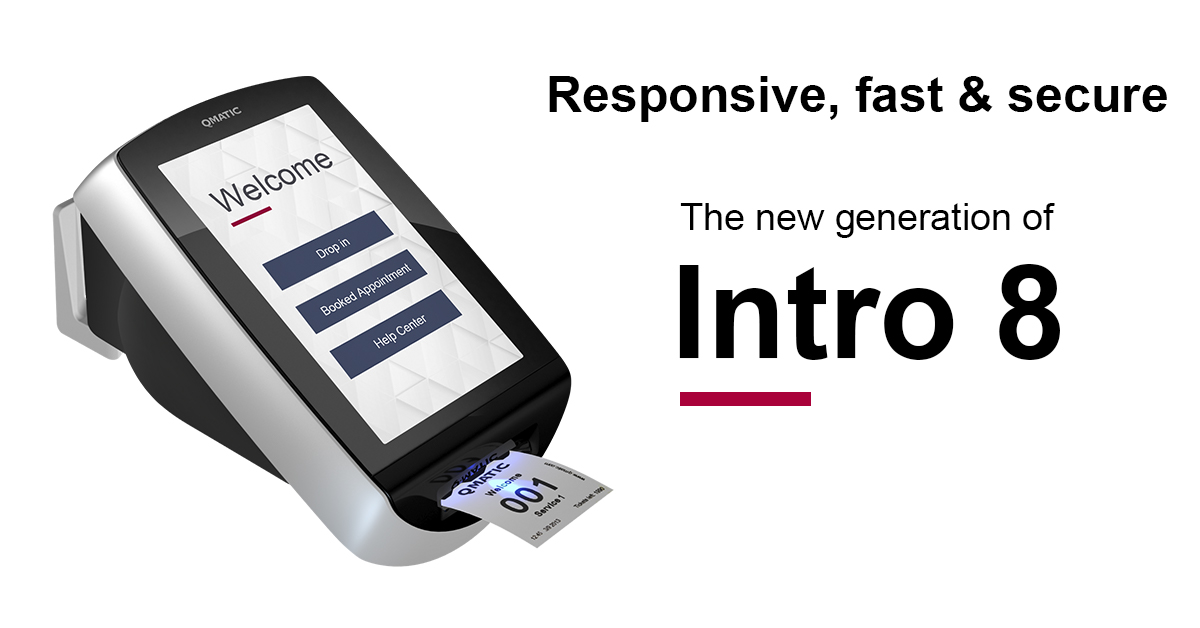 The enhanced version of Qmatic Intro 8 is developed to improve fulfillment of customer needs throughout the customer journey. Qmatic Intro 8 does so by presenting different services - from appointment check-ins to simply providing a ticket to get in line. The kiosk's broad range of use ultimately decreases wait times and increases customer satisfaction for a wide range of services, improving overall customer experience as well as staff efficiency.
Faster, crisper, more responsive
The new generation of the kiosk features technology that vastly enhances performance and usability. This means for example that the resolution of the touch screen has been increased, and the screen is significantly more responsive to user input. These are core features for improved visitor (end-user) experience. The technology upgrades do, however, also mean that Qmatic clients may design more powerful, reliable and secure queuing and customer journey management solutions.
Ulf Larsson, Product Manager, Hardware, commented: "It is with great delight we release the new version of Qmatic Intro 8. It is set to continue building on Qmatic's world renowned offering of powerful high-quality self-service kiosks."  
Among the added features and improvements that makes the new kiosk attractive for Qmatic clients is support for Distributed Operations. This is functionality offered by the enterprise platforms Qmatic Cloud Solutions and Qmatic Orchestra 7. It allows a client to maintain a stable, high-performing environment throughout all locations in an enterprise, even if connections are poor or unreliable. Furthermore, Qmatic Intro 8 is capable of secure communication via https and SSL.

Highly capable, conveniently sized
Thanks to its unique combination of convenient size and powerful functionality Qmatic Intro 8 is widely used at clients in sectors such as public, health, retail and finance. The kiosk may easily be mounted on walls, on a stand-alone pedestal or placed on a countertop.
In combination with Qmatic Cloud Solutions or Qmatic Orchestra 7, the new version of Qmatic Intro 8 is a key component for customer/visitor interaction in customer journey management tailored to individual client needs.
Do you have any questions? Learn more about the new enhanced Intro 8 here.
Or talk directly to one of our sales representatives.