Johanna's passion for adventures and ambition to make an impact led her to landing her dream position at Qmatic
Somethings were just meant to be and in Johanna's case, joining Qmatic was one of them.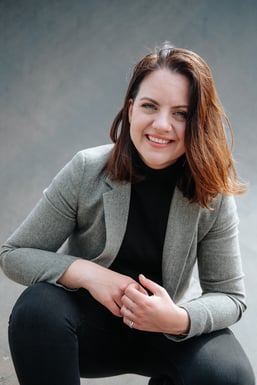 After graduating from Chalmers University in Gothenburg with a degree in Engineering Physics, Johanna Ternström started her career within healthcare. She then quickly moved into cloud solutions for IoT, working for a startup company that got acquired by Tele2 IoT, where she worked for several years before joining Qmatic as Product Manager. "Historically, I've been helping companies in the transition from a classical company towards a SaaS company, so I was looking for a place where I could, with my experience, provide that knowledge from another position." states Johanna.
The journey that lead her to Qmatic
"I was looking for a global company where I could make an impact and that was based in Gothenburg, since I'm from Gothenburg and live here," explains Johanna. As she was looking for new opportunities that could further her career, Johanna went on a trip to Ghana with her friend. "I was sitting at this local telco, waiting to get a SIM card in Accra, when me and my friend were discussing what I should do in the future. Coincidentally, we see this machine in front of us, which was Qmatic, and my friend who is from Mölndal said, 'Do you know that they are from Mölndal too?' Two or three weeks later I saw an ad from Qmatic on LinkedIn, and I said to myself – this is a sign. And it was sort of the perfect match because it fitted all the criteria, being in a transition where I could take a roll to support that and being a global company."
The importance of working for a global company
"I've always worked in global companies and I want to make my world bigger and bigger, and I think I can't do that if I spend time with people that live in the same place as me, or have the same background as me. I want to grow and work with people that come from different backgrounds and have different perspectives of how the world and businesses look like."
The different aspects of her role at Qmatic
"There are two aspects, one is what we as a company want to achieve, the direction we are heading towards, and to work and understand how our products fit into that. Because in a product company, as we are, the product is the company in a sense, it is what the customer experiences. And to understand how we can make it in the right way so that it supports the future of the company. The other side is to understand how the world look like for our clients and their customers, what is their reality, what is the ecosystem and how can we with our knowledge understand how their flow work, how a typical day look like for them, and how can we make that better and make our customers more profitable and successful. Those are two the main aspects of my role."
What motivates you?
"Making an impact, see how things can improve, and resolve it. I'm a pretty visionary person, so I tend to see what things could be, and not always what it is now. And I think making this change, making people rethink their world and see, OK this is what the future can bring. That's one of the reasons why I work with product development, looking into what is the future? What will our future look like? And make sure that everyone is onboard with that."
What the future holds for Qmatic
"I think that we are in a great position because our market is getting digital and our customers are getting more digitally independent, and that's a trend we see in every market. First, what you typically see in an industry is that you have a digital technology shift where you go from analog to digital and you investigate other possibilities to offer your solution. Take the music industry for example, it has been digital for quite some time, but it was first when people started to behave differently that this new type of business model emerged, and how we consume music changed. Now we are used to subscribe to Spotify and no one would buy a CD any longer, but music has been digital for a longer time than that, before people started to change. And as a global market leader with a lot of knowledge, if we dare to be bold, we can also bring in not only new technology but new behavior in how people queue, and how people behave and consume services and that's what I hope the future brings for us, that we can transform how people access services and how people interact with services. Not only focus on technology, but drivers and behaviors."
Outside of work
"I love adventures and traveling to pretty remote places. When I was in Ghana last year during Christmas, I also visited São Tomé and Príncipe, a group of islands located outside the west coast of Africa, which is one of the least visited countries in the world. I also love being in the nature, go skiing and winter camping, climbing. Just experience the nature, which could be basically anywhere," Johanna ends.